Shanita Miller is a hardworking, charismatic, and intentional small business owner. As one of The Lola's ambassadors and business owner of Black Girl's Guide Atlanta, she strives for excellence while simultaneously cultivating genuine connections wherever she goes. Lola Member since February 2022,  Shanita has started Black Girls Guide Atlanta from the ground up. Making intended trips and highlighting local places in Atlanta to have a good time while also spotlighting womxn and black-owned businesses!
I find joy in connecting people to people and opportunities.
I am the Founder of Black Girl's Guide to Atlanta, a social media platform that not only serves as a guide to good food and entertainment in Atlanta from a local's perspective but also intentionally spotlights Black-owned and women-owned businesses.
The secret to my success and the success of my brand is staying authentic to my true voice and being mission-driven instead of "followers" driven.
4 things to know about Shanita Miller!
I was born and raised in Atlanta and am a part of the Atlanta Public School system.
My professional career was in the non-profit industry for 10+ years, specifically in special events and fundraising.
I am proficient in French and a true Francophile. This influences my excursions and travels.
I collect cookbooks and love visiting historic homes.
I'm a Brand Ambassador for The Lola to

bring value to the community
Being a brand ambassador for The Lola means using my voice and platform to introduce people to the amazing Womxn's community that is The Lola through social media and networking. It means being invested in The Lola's mission, supporting its events, and connecting with its current members. My goal is to give an authentic story about my experience at the Lola in hope of attracting prospective members.

I partnered with the Lola because of their mission and the way they support women. I was introduced to The Lola by member November Nichols. She raved about the space and community so much that I knew I had to learn more. There is such a high-sense of community amongst the women at The Lola. That's the wow-factor for me.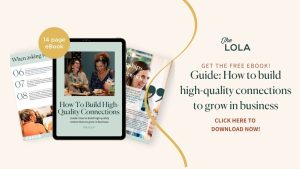 I love to partner with small local Atlanta businesses in a meaningful way
I normally am not attracted to big businesses and brands unless they are mission-driven to support local small businesses in a meaningful way.
In a partnership, I look for businesses that align with my voice and mission. That is ultimately what leads to the most successful partnerships.
I've had the pleasure of working/collab with the following Lola members since joining The Lola: November Nichols, Erin Goodier, Adrienne Rice, Lauren Jackson, Mia Martin, Sagdrina Jalal, Margot with PPN.
"Cultivating relationships is what brings me the most joy!"
The biggest pain points for female entrepreneurs are
Not having enough women at the leadership table.
Unequal pay
Balancing the responsibilities that come with being married and a mother with managing or building a successful business.
Community is vital for female entrepreneurs!
It's challenging at times emotionally and mentally, so having a community that can pour into you is vital.
Here are a few things I believe drive the most value in my business
Building a loyal audience willing to support not only me but the business owners I support
Building a brand synonymous with quality and excellence
Changing the typical narrative that accompanies black and women-owned businesses.
Occupy spaces where minorities are not seen or heard.
Tools and practices to succeed in business
Work on video content in the morning with coffee
Always make time for lunch as that is self-care
Have designated times for checking and responding to emails
Try to meet people in-person instead of virtually as much as my schedule allows. My best partnerships were formed this way.
3 favorite tools to help me get organized 
My 3 favorite blogs or newsletters
My 3 favorite social media platforms
Reach out to Shanita!
Reach out to me if you have a business in which you'd like to introduce to Atlanta and want me to tell their story.
Where can people find you?