Rachel Katz and Kelley Bowen have joined forces to bring their combined creative and marketing experience to entrepreneurial brands
When members Rachel Katz and Kelley Bowen met at The Lola they fostered a friendship, and furthermore, a partnership. Together they have created The Brand Set, a new brand-strategy agency that focuses on helping business simplify their approach to branding. Through their partnership, they have come to deeply appreciate the need for connection and their love for collaboration. This love for connection extends beyond the workplace for Rachel, who is a new mom, and Kelley who enjoys participating in her community's progressive initiatives.

Rachel Katz
Location: Atlanta, GA

Kelley Bowen
Location: Atlanta, GA
Briefly describe who you are, what you do for work and for fun
RK: I'm a strategic brand and marketing consultant who specializes in helping individuals, teams and companies identify and implement smarter brand, marketing and communications efforts. I am also a new mom, raising an almost 9-month-old in the middle of a pandemic which is a true adventure all on its own!
For fun, I drink wine, collect cookbooks and love cooking daily. I spend time with my friends and family however possible. I love yoga and pilates, and getting outside when I can. Pre-COVID, I loved hosting dinner parties, sitting at the bar at a restaurant for hours, traveling with my husband and now I'm daydreaming about the days when we can resume those special activities.
I'm also turning my love of wine into a new startup I'm launching this spring, Starbright Wine
— Rachel Katz
KB: I'm a creative strategist focused on providing holistic creative direction and strategy for fashion, branding, and marketing. I most enjoy working with emerging brands to help them articulate their vision and strategic growth plans. For fun, I love traveling (or at this point, dreaming of when we can all be traveling again), restaurant experiences (at home now), wine tastings (in our kitchen), spending time with family and friends (virtually for the most part) and participating in as many progressive community-driven initiatives and activities as I can.
The Lola has, of course, been instrumental in many of my "extracurricular" activities! – Kelley Bowen
— Kelley Bowen
Pandemic-wise, I've taken on the side (hobby) hustle of indigo tie-dyeing with my husband Oliver, which we've parlayed into a brand called Ticked & Tied (available on Etsy).
How did you land upon your professional path? Who or what inspired you into taking this path?
RK: I chose my career path pretty intentionally, knowing I wanted to do PR for restaurants early in my college career at the University of Florida. I did just that right out of school – moved to NYC and went from agency positions to in-house with restaurant groups, handling the Marketing, PR and more (sometimes a lot more!). When my husband and I relocated to Atlanta in 2019, I launched RBK+co to offer strategic marketing and brand consulting to businesses of all kinds to help businesses ensure their marketing dollars and efforts are directed towards the right goals.
Jumping into this new adventure with The Brand Set was inspired first and foremost by my partner Kelley Bowen – her friendship, skilled branding talents, and our conversations about our businesses and goals naturally led us to this point.
My career prior to this was nurtured by my first two bosses in New York City – Katherine Glover my boss for my first summer internship at 20 years old, taught me everything I needed to know – for work and for life. To this day she is one of my best friends and one of my most cherished relationships.
My first boss right out of school, Chloe Mata Crane, set a beautiful example of the type of boss, mentor and friend I wanted to be professionally – and she is still a mentor (and wonderful friend) to me
— Rachel Katz
KB: I studied graphic design and advertising at UGA, moved to NYC right after college, and was quickly drawn into the world of fashion. I've had a few standout womxn mentors along the way who have inspired me to learn and grow as a designer and as a leader. They've encouraged me to craft my voice, channel my creativity, and seek collaborative opportunities in order to make amazing things happen. Since moving back to Atlanta, I founded Kelley Bowen Creative and expanded my reach to serve fashion, lifestyle, and CPG companies that need smart, impactful creative strategies to launch new brands and successfully take new products and services to market.
Most recently, I've partnered with Rachel Katz to co-found The Brand Set, a new brand strategy agency.
I have The Lola to thank for connecting me with Rachel, now a business partner, and more importantly, a dear friend.
— Kelley Bowen
We're so excited to bring our combined experience in creative and marketing strategy to entrepreneurial brands. We're offering three Brand Sets of services, plus a brand Reset and one-on-one consultations—aiming to simplify the way businesses approach their branding needs with successful growth in mind. Our ultimate goal is to foster a collective wherein we can connect like-minded businesses with one another and reinforce cross-pollination where it matters most: in the womxn-led startup and entrepreneurial space.
How has connection and collaboration been important in defining and growing your business? What have you been able to achieve that you couldn't have done alone?
RK: "Networking" has been required since the start of my career. These days I think that word has grown tired thankfully but the need for connection has not. Now, as a consultant, I rely heavily on my nurtured network of other professionals, freelancers, consultants and agencies to serve my clients, offer advice, be a much-needed sounding board.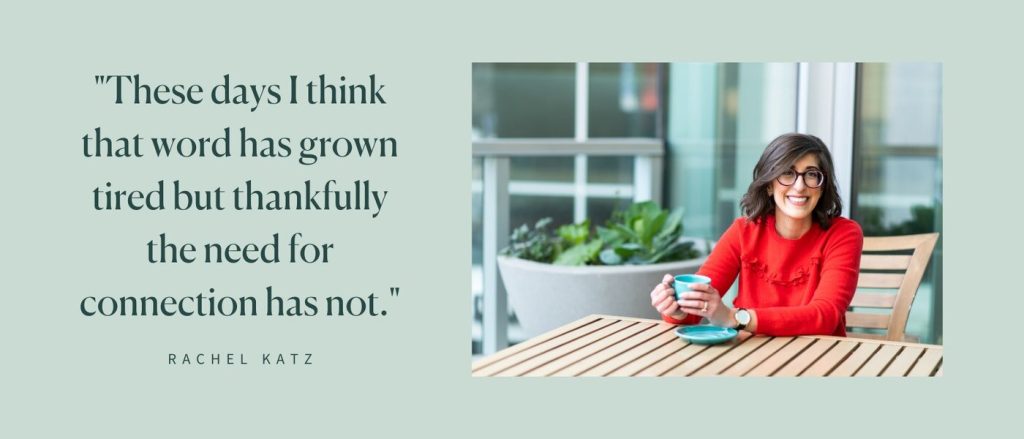 For The Brand Set, Kelley and I first met at The Lola, though it feels like we've known one another for far longer than that – our connection was instant in that sense. Our collaboration, the fusion of our specialties within our individual consulting businesses, is what makes The Brand Set so special.
We are as equal a partnership I have ever had. We cheer one another on, we make space for what the other person needs, and we trust the skillset and expertise of one another to be efficient in what needs to get done for our business and our clients.
— Rachel Katz
KB: Leaving the corporate world to start my own business was a lone leap of faith at first, but I quickly realized that I wasn't (and couldn't be) going it alone. An incredible network of self-starting womxn (many of whom I connected with through The Lola) helped me grow and finesse my offerings and my outlook, providing connections and solutions that I absolutely couldn't have arrived at myself. I'm also very focused on fostering collaborative engagements with my clients, ensuring that our work feels like a partnership (versus a client-vendor relationship).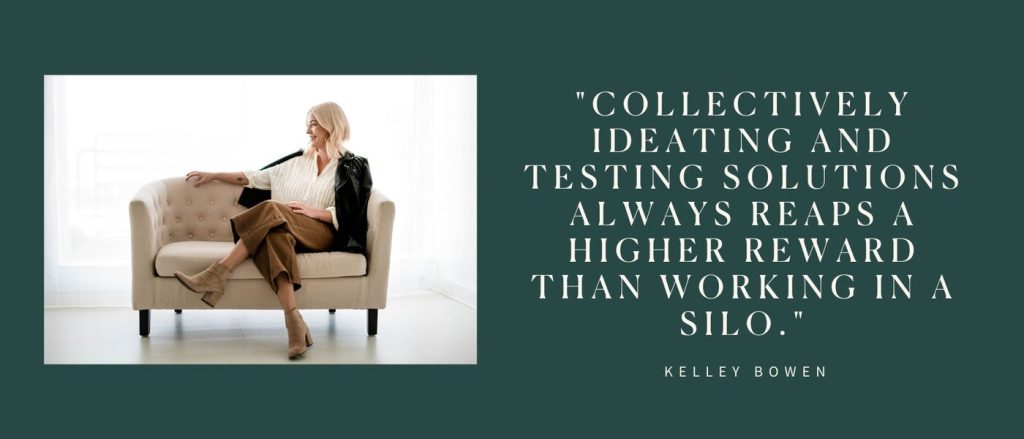 In founding The Brand Set, Rachel and I have embedded collaboration and connection into the fiber of the brand from the beginning. I'm so thrilled to work with someone as intelligent, savvy, and focused as Rachel. Rachel and I are constantly energized when we work together to build and problem-solve, that passion is something we can't wait to bring to our potential new clients.
How do you define support and how do you ask for it? Do you ever struggle with asking for support?
RK: Instead of saying what first comes to mind – which is that I am terrible about asking for support – I'm going to be kinder to myself and say that asking for support is something I am actively working on getting better at and more comfortable with – both personally and professionally. As a woman, as a business owner, as a mom, as a very independent person in general, it's a need I must acknowledge and something I have to push myself to ask for every day.
KB: To me, support is recognizing that someone else at the table has the experience, intuition, network, and/or resources that will help achieve a shared goal… and asking them to provide. Within my professional circles, I always try to lend my support to others when asking them for it. Truthfully, the only times I struggle with asking for support is when my only option is to ask someone I don't know well. Otherwise, it feels like a natural part of the ecosystem of incredibly talented individuals I'm lucky enough to call colleagues and friends.
When working or partnering with others in business, how do you communicate and how do you define and set your boundaries?
RK: I communicate in any way that is necessary to keep up with how hectic the days become. Texting is great because it's an immediate way to get answers while minimizing unnecessary meetings. I do not believe in meetings for the sake of meetings. Can you get across what you need in an email or text? A quick 3-minute phone call? Great. Flexibility is sometimes the key to productivity. I think it's important to remember that everyone is a person outside of their job.
A helpful boundary for me has been a hard start when I schedule meetings daily. I don't schedule anything before 930am so I can have breakfast with Sloane, prep everything for dinner that night (a newfound morning hack that has made my days enormously less stressful), and get any emails and pressing work done before the day slips away.
KB: Finding the best communication style for each relationship has always been key for me because no two are the same. Open conversations about the best way to communicate, it usually leads to more flexible, gentle dialogue—even when topics or initiatives get intense. Setting boundaries also vary case-by-case, but I think the most important thing is to be transparent and compassionate, establishing everyone's comfort level to work towards the best mutually empowering solution.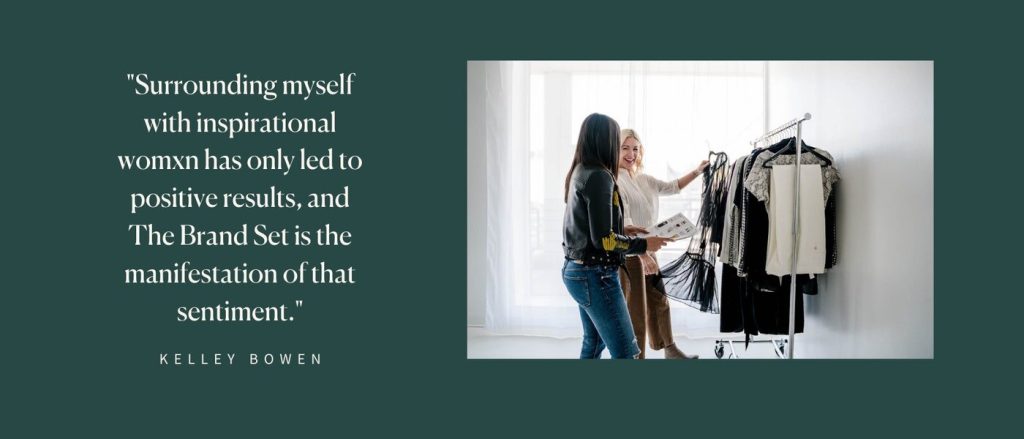 How does collaborating and asking for help support your mental health and build your resilience?
RK: I think collaboration is a helpful tool to increase our understanding that we are not meant to do any of this alone. Our internal perception is often clouded with doubt and a jump to expect the worst – sometimes having a collaborator can also make space to trust yourself and your skills that much more. For me, it's a daily practice to remind myself that the support I receive and know to ask for, is just as important as the support I am able to give to others.
KB: When I'm doing it right, collaboration is a humbling, vulnerable, expanding experience. Giving and taking ideas, checking myself that (because I'm Type A) I'm not bulldozing or minimizing any collaborators, being willing to listen and learn, being present and participating thoughtfully… all contribute to exponentially better outcomes. The process takes courage and builds healthy elasticity, for sure. It also means that mentally I feel: stimulated and challenged, supported and uplifted, and reassured that I'm not shouldering the burden alone. And this means that I'm all the more mentally prepared for (and looking forward to) the next opportunity to collaborate and ask for help.
It's incredibly therapeutic to have womxn in your life who are facing similar business challenges. You can explore creative solutions and leverage each other's real world experience to get to those breakthrough moments together.
What defines a successful partnership? What elements are important to you when you work with or collaborate with others?
RK: Trust, respect, and transparency are paramount in a partnership. That's really it for me. Your partner should see the most authentic version of you – good, bad, no matter. When collaborating with others, I find it's important to know what the other person expects and needs prior to working together – how they receive feedback, how they best communicate. I think that knowledge, coupled with the understanding and compassion to know life happens, creates a fluid and productive relationship.
KB: A successful partnership is built on mutual respect, trust, and commitment. When that foundation is strong, you can achieve much more together than individually. Open communication, sharing and iterating ideas, and contributing to your common goals are bound to bring success and open everyone up to new possibilities and ways of thinking.
What's ahead for you and your business?
RK: The Brand Set is live and we are so excited to start working with businesses and brands to get them set up for success. We have big goals for what The Brand Set can grow into and I am excited for this next step in growing our business.
KB: I'm especially optimistic about The Brand Set and what we have to offer our womxn-led entrepreneurial community. Rachel and I just launched our business, so our debut will also serve as proof of concept: that we can successfully build and market a brand rooted in collaboration, creativity, and strategy. We are so excited to help other strong, motivated womxn get themselves and their brands set up for success.