Part 4: Changemakers Shelly Anand, Catherine Lee, and Lauren Lee

By Jackie Yen
In honor of Asian American Pacific Islander (AAPI) Heritage Month, we have invited Lola member, storyteller, and creative Jackie Yen to contribute an interview and photo series celebrating Atlanta's Asian American womxn. These incredible humans are founders, small business owners, and leaders of purpose-driven organizations. Their inspiring stories have been posted throughout the month of May.
Today Shelly Anand and twins Catherine and Lauren Lee feel comfortable in their bodies, but getting to this point was a journey that turned them into impact-driven founders, advocates, and storytellers. Shelly is empowering both young and old through her picture books and non-profit, while Catherine and Lauren own a company that is inventing new ways to treat and talk about female pain. Their work supports movements and change larger than themselves.
Shelly Anand
Fighting For Body Positivity and Against Oppression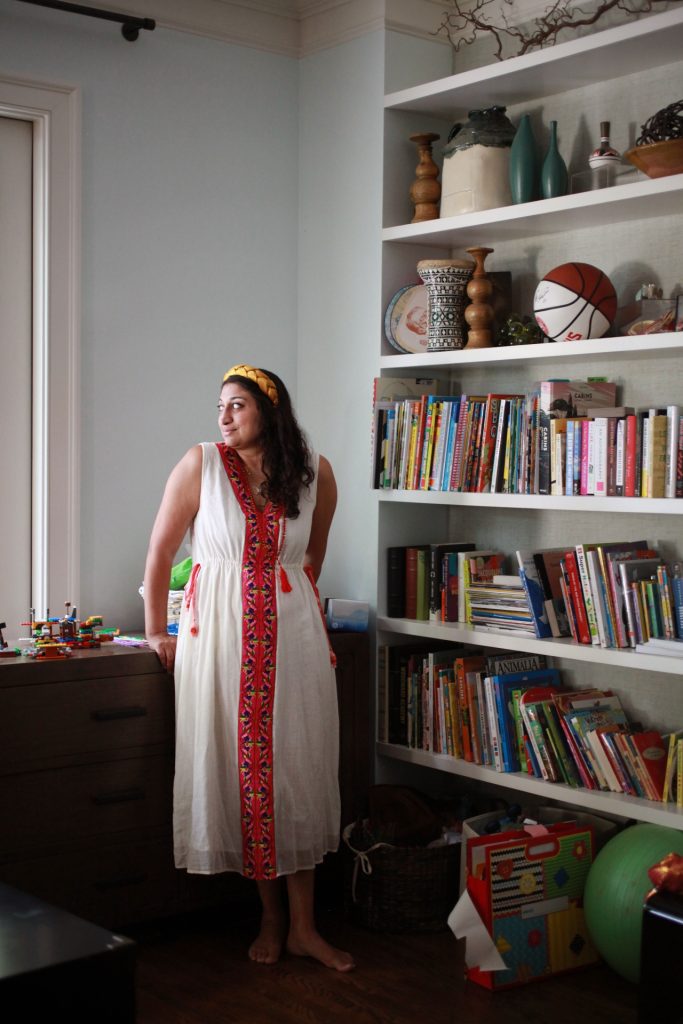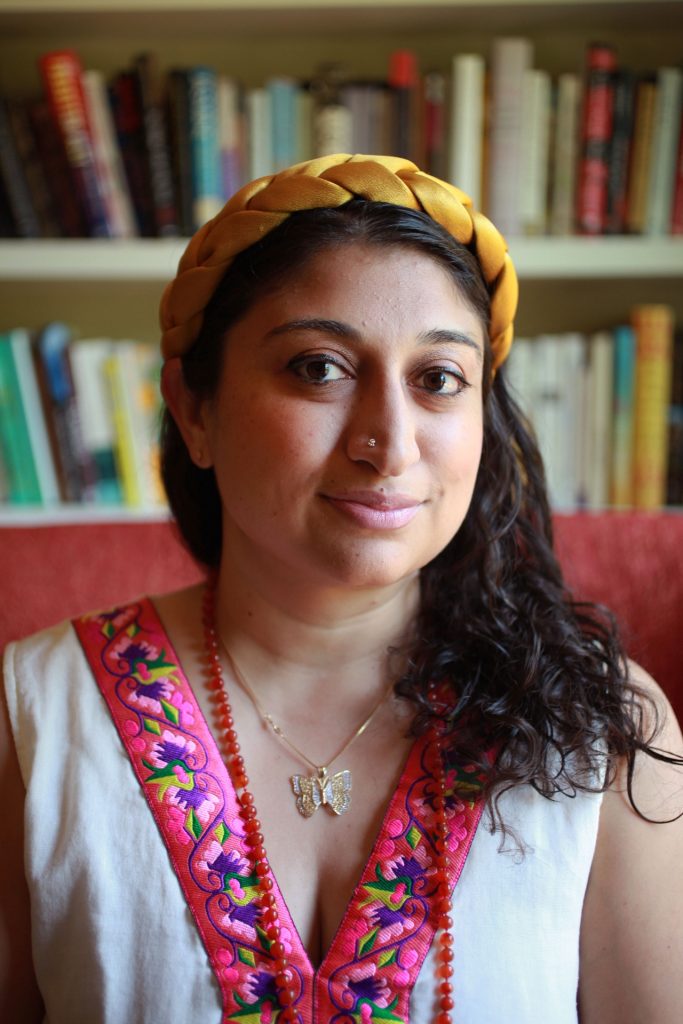 Shelly photographed at home in Decatur.
Like her, Shelly Anand's home in Decatur is layered, bold, and colorful. Shelly is an author and a co-founder of Sur Legal Collaborative, a non-profit fighting for economic, racial, and social justice for immigrants and working-class communities in the South.
Where are you from and how do you identify yourself?
This is always a loaded question for us Asian Americans, isn't it? It can bring up all sorts of insecurities—like that we do not belong, that we are less American than white folks. It's often used to replace the more blatantly othering "what is your ethnicity?" question.
Yes, it matters that it's me, another Asian American woman, who is asking.  
Right, then it feels like a way to connect! I identify as Southern since I have lived in Georgia for most of my life. My parents are immigrants from India and the children of refugees from the Partition of India and Pakistan in 1947. Both my parents were born in refugee camps. I identify as Punjabi and South Asian, rather than just "Indian," because my family's homeland is in present-day Pakistan. I also identify as a woman, mother, wife/partner, and a friend. I identify as an advocate for social justice, though by profession I am a lawyer. I am also a children's picture book author. Because of my social justice work and book writing, I identify as a storyteller.
You were 14 years old and living in Georgia when 9/11 happened. How did that affect you?
As a brown, non-Christian teenager, I endured Islamophobia and xenophobia that I felt wholly unprepared for. I lost a group of mostly white friends, and I was told multiple times I was going to hell. I found solace and community with other South Asian and Arab students.
Those experiences started me on a lifelong journey of studying and fighting against all forms of oppression. I used to be shy and insecure as a child and teenager. Today, I'm vocal. I'm an advocate.
In addition to your nonprofit work, you also write children's books! 
I didn't always aspire to publish a book. The idea for Laxmi's Mooch came to me when my friend and fellow Lola member Sonya called me upset because her daughter was teased at school for having a mustache. I was instantly flooded with my own memories of feeling embarrassed and ashamed about having dark hair on my arms and upper lip. My upcoming book, I Love My Body Because, continues the theme of body positivity and fighting against body shaming and fat phobia, something that starts at such a young age.
As a mother trying to raise two conscientious anti-racist, feminist, biracial kiddos, I found story telling and writing to be a way to get ideas across. I also find it extremely healing.
Wow, you're making such an impact and doing so many things.
Yes, but I am also trying to "do" less. The model minority myth—which is rooted in white supremacy, capitalism, and productivity culture—is a disease and has significantly impacted me and my relationships, both professional and personal. I am trying to unlearn it.
How do you find support, either for yourself personally or for your work?
THERAPY! Also an amazing support network of friends, including several Lola members. I am blessed as well with an amazing husband. We've thrown many of the traditional gender roles out the window.
Lastly, I work on showing myself self-love and self-compassion by taking care of myself: unwinding, being present, binge watching a show, reading great romance novels, and maybe getting my nails done. I am not very good at self-care and need to practice it more!
Self-care is definitely something to celebrate. Finally, what do you miss when you're not in Atlanta?
Biscuits and sweet tea! When I went to college at Wellesley in Massachusetts and ordered sweet tea at a restaurant, someone said, "Honey, this ain't the South!" That's when I knew I was a Georgia peach (or a Georgia mango maybe?)
Catherine and Lauren Lee
Helping As Many People as Possible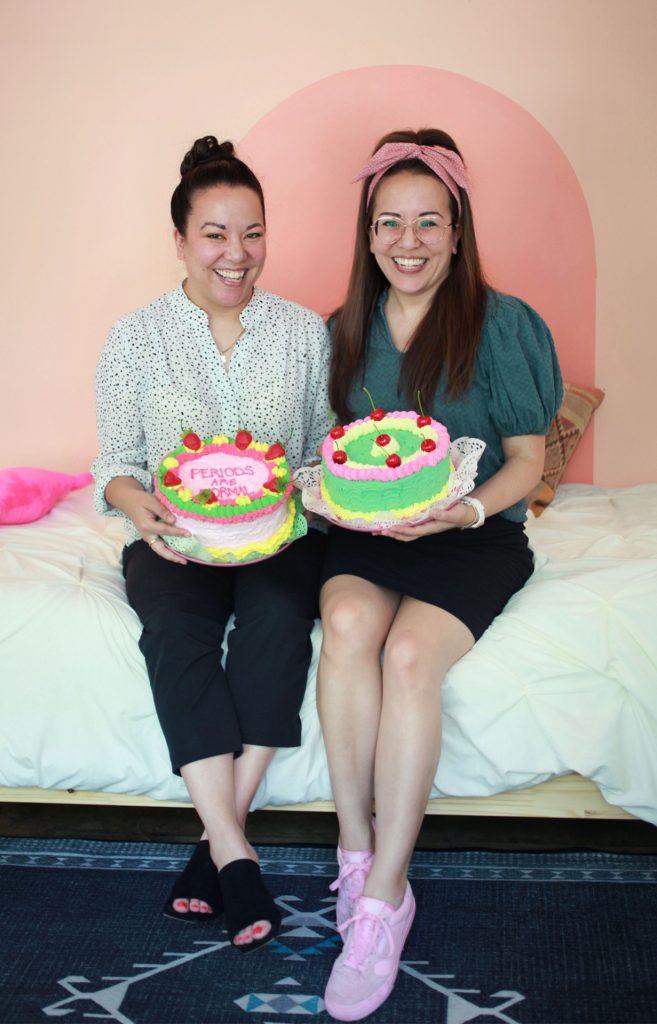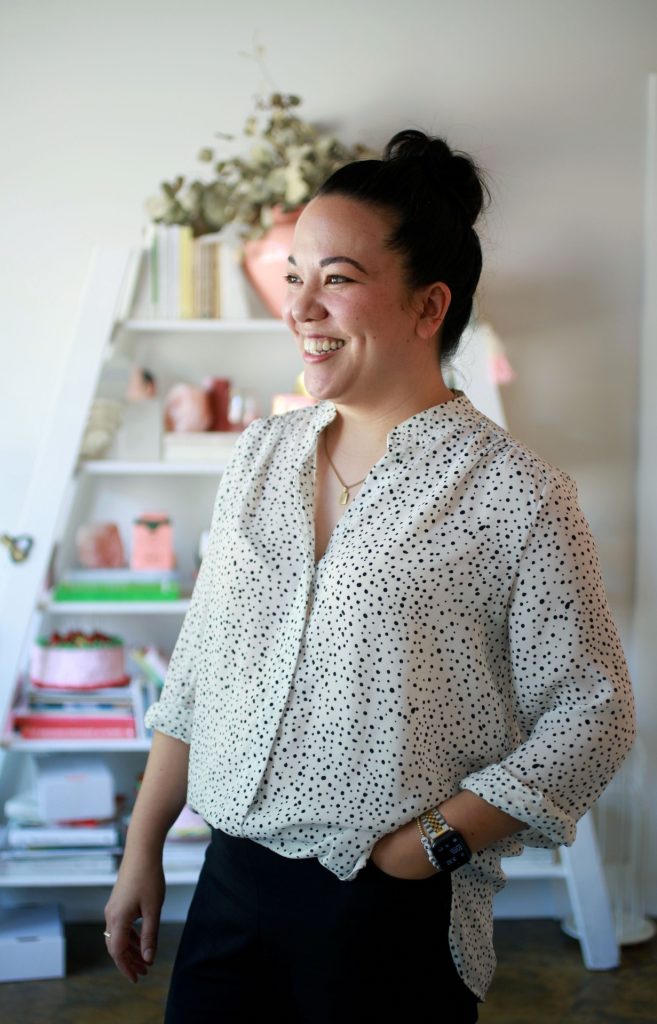 L: Twins and co-founders Catherine (left) and Lauren (right). R: Catherine
Catherine and Lauren Lee are twins and best friends who can light up any room with their laughter and warmth. Three years ago they launched health and wellness company Semaine from a loft in Old Fourth Ward and haven't looked back. Semaine is on a mission to change how we talk about women's health and treat their pain.
Where are you from and how do you identify yourself?
Catherine: We're originally from the D.C. suburbs on the Maryland side. We identify as twins, part-Chinese/Asian American, Asian Cajun, and bi-racial.
Lauren: Our dad was born in D.C.'s original Chinatown and our mom is from the French Cajun part of Louisiana. We always joke that we might be the only Asian Cajuns around. We celebrate the fact that we come from two diverse backgrounds that know what to do with rice dishes!
What is a stereotype you've encountered in your life that you subverted and turned into a source of strength?
Lauren: I desperately wanted to be a principal dancer at a top ballet company, and we trained all through middle school and high school. In the 90s, the ballet world was still a racist environment, and we were told we were too "exotic" to play key roles. We were even typecast into the "Chinese Dance" in The Nutcracker with its tone-deaf choreography and told to use makeup to make our biracial eyes look more Asian.
But I love being uncategorizable. On my travels, I've been mistaken for being a citizen of Morocco, Italy, Spain, Latin America, First Nations and Indigenous reservations, Turkey, France, Germany (still yet to go to Asia!). I always tell people that as long as I'm not in Scandinavia or Sub-Saharan Africa, people never think I'm a tourist.
Catherine: Same thoughts as Lauren on this one!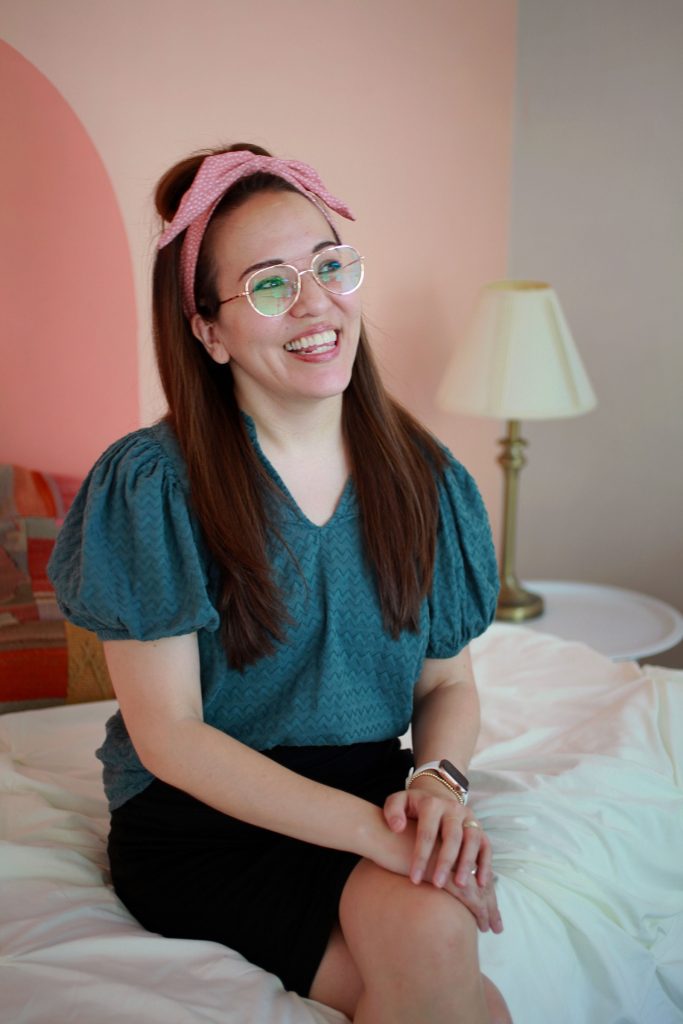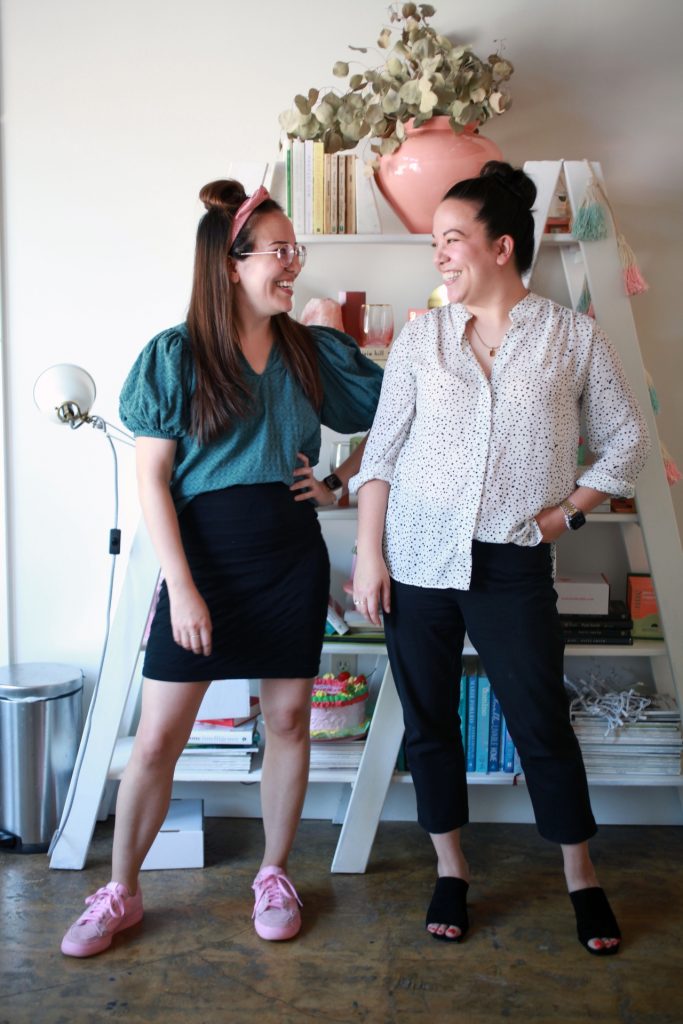 L: Twins and co-founders Catherine (left) and Lauren (right). R: Catherine
Semaine offers a groundbreaking, science-backed support for period pain and also balancing hormones. What gave you the belief that you could start your own business?
Lauren: I'm not sure if I had a belief—I just felt compelled to do it. Semaine was entirely inspired by my own health journey, and it grew into a realization that the way we look at women's health and quality of life is still so antiquated.
What about you Catherine?
Catherine: I didn't seriously think about launching my own business until I realized we had to share this product we had created. The desire to help as many people as possible gave me the courage to quit everything and go all in with Semaine.
Half of our population has these roughly 28-day cycles, and yet we don't recognize how much those cycles impact us day-to-day. Because we live in a patriarchy, we're very much focused on the 24-hour cycle and constant hustle culture, when most of us would benefit from adjusting our level and type of work to coincide with the phases of our menstrual cycle.
Target and Anthropologie both carry PMS & Period Support. What's it like running a fast-growing health and wellness company?
Catherine: It's ironically very stressful and maybe not the healthiest thing you can do! But that's the case with starting any business. The hours are long, and the highs are incredibly high and the lows are very, very low.
Lauren, in addition to your sister, you're also working with your husband, Matt, the scientist in the company.
Lauren: Yes. It can be tough at times because we have high expectations of each other. But Cath and Matt are my best friends, so I feel grateful daily that I get to spend so much time with them.
How do you find support, either for the business or yourself personally?
Lauren: Matt, Cath, and I are lucky because we have really supportive families on both sides. They have not only been hugely encouraging of Semaine, but they have also done work for us and helped us financially. We also support each other.
As someone with endometriosis, I'm also so grateful for fellow endo warriors who understand chronic pain and face the skepticism of medical professionals (because it's such a hard condition to diagnose). Whenever I'm in community with endo warriors I feel at home. There's no explanation needed around how hard my health journey has been.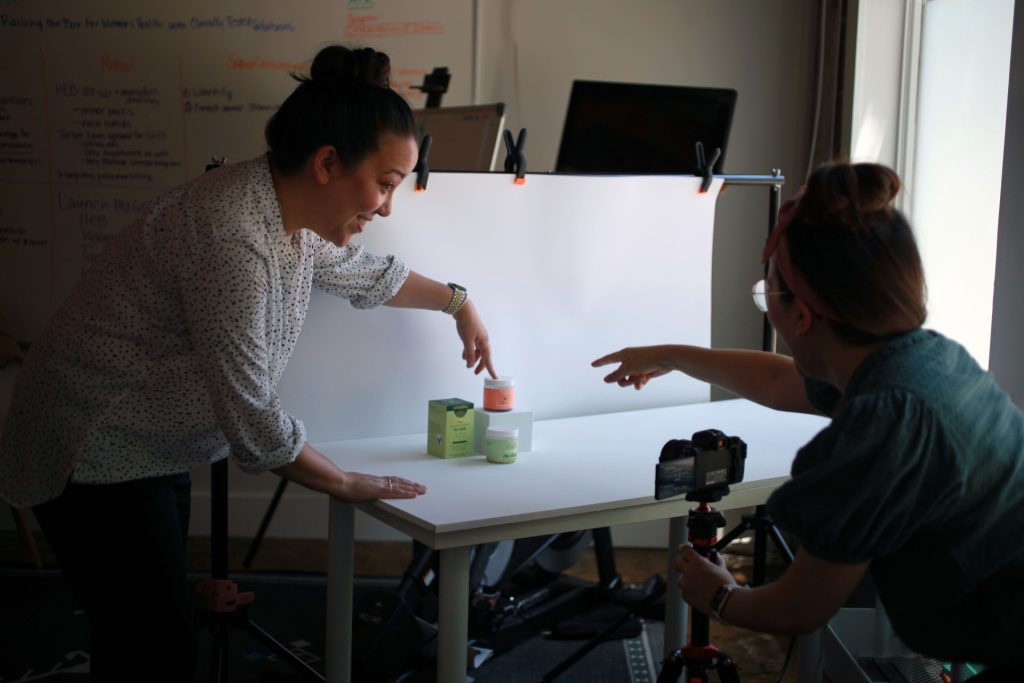 Catherine and Lauren photographing Semaine's Cycle Self-Care Set
Catherine, any advice for other AAPI women looking to open their own business?  
Catherine: Reach out to as many Asian and women-run business groups as possible. Attend meetings and always be in the room. It sounds weird, and maybe exhausting to some, but just showing up is really half the battle. You don't have to be a great networker with thousands of connections on LinkedIn. Find your tribes and just show up. For us, The Lola has been an amazing entrepreneurial network!
How can people better support AAPI-owned businesses like Semaine?
Lauren: Shout them from the rooftops! For instance, every AAPI month we share other small, Asian-owned businesses on Instagram.
We also shop and eat at Atlanta AAPI-owned places, like all of Guy Wong's restaurants: Ruby Chow's, Ton Ton, Big Boss Chinese. I've been a huge fan of local June Shin's jewelry for over a decade. I closely follow Kavi Vu on Instagram for her advocacy in Atlanta, and I love influencer Clara Jones, a gynecology provider and founder of The Asian Care Unit!
Catherine: Yes, and I'll share a few more. HopStix in Chamblee is delicious and so innovative. Maomi Bookstore has such a calming vibe and carries amazing stationary in Atlanta's Chinatown shopping center. KBBQ Taco in downtown Decatur is a great gem. And We Love BuHi continues to do amazing work with the local community.
These are incredible recs. Atlanta has so many places to love!
—
Thank you so much Shelly, Catherine, and Lauren!
These interviews have been edited and condensed for clarity.