Alahna Lark finds joy in using her imagination. To her creativity is a gift to share with the world.
The Lola member, Alahna Lark find that creativity and success go hand-in-hand. Whether in her work or in her life outside of work creativity borne from her imagination propel her to be the best version of herself.

Alahna Lark
Location: Atlanta, GA
Age: 26 years
What I do: I am a Liberian-American Filmmaker
Briefly describe who you are, what you do for work and for fun
I am a Liberian American filmmaker with a love for good music, good food, and super cold glasses of Chardonnay (basic, I know). I am a child of refugees, so a lot of my work sheds light on those our society chooses to forget. My strength comes from my mom who raised me and my four siblings as a single mother for most of our lives. My courage comes from my siblings who have always been quick to challenge me and my intentions. Because of them I never do anything without knowing the "why?" first.
Share your career story with us including anyone who inspired you along the way
I started out as a writer and an actress. I was inspired by the play "A Raisin In The Sun" by Lorraine Hansberry. It was the first time my predominantly white school prioritized reading the voices of strong, driven, and dynamic Black characters as told by a Black woman. I was cast as the lead role in it and I just fell in love with the arts from there. Once I moved to Atlanta, however I ran into some very sketchy Producers who were using their roles in order to take advantage of young aspiring actresses like myself. These incidents made me want to become a Producer to ensure that I had a say in the stories that were told and that the cast and crew involved would have a safe space to create films and shows.
What does success look like to you and how has that changed over the years?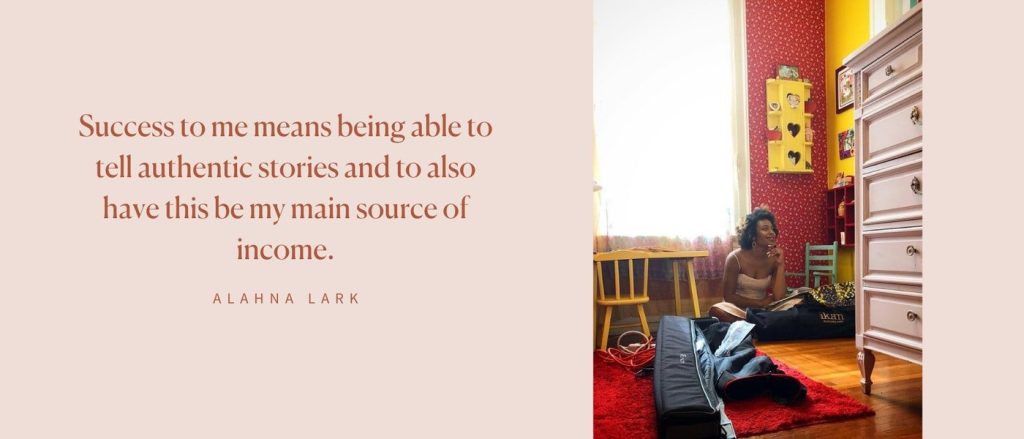 I used to only focus on the storytelling aspect of success, like if I worked hard on making a film and it was well-received then it was successful. Now I realize that making a fair living off of telling stories is just as important, because well… being a starving artist didn't turn out to be as sustainable as one would think.
What struggles have you faced in your career? Did you overcome those struggles? How? What did you learn as a result?
Where to start?! Who hasn't struggled in their career? From navigating different personalities and egos in colleagues to my personal imposter syndrome, to not knowing where the next paying opportunity would come from; being an artist isn't easy, but I wouldn't choose a different path if given the chance. I've learned that as long as you have the right intentions and trust your gut, what is meant for you will always find you. In short, roll with the punches and keep it moving as there is always more work to do and more stories to tell.
What does creativity mean to you? What do you do as your creative outlet?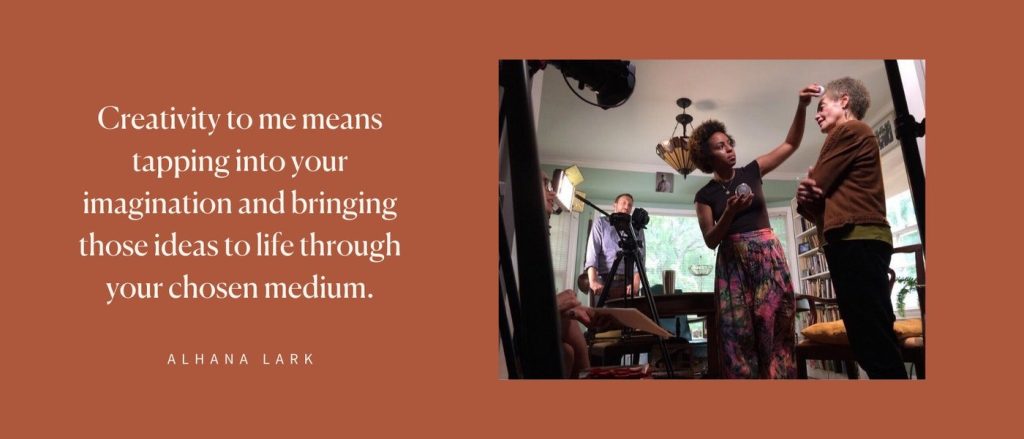 I have been a creative all my life, and it has manifested itself in so many ways over time; poetry and spoken word, screenwriting, acting, producing, directing, and even communicating my production company's capabilities to prospective clients… creativity deals with all of this and I'm grateful for its role in what I do for a living.
Your work and business is built around creativity, why do you believe creativity is important in business and what can we all do to bring more creativity into our work, businesses and lives?
Creativity is important in business because it's what sets your business apart from others. With so much competition out there you really have to be able to differentiate yourself from competitors in order to find which clients are a good fit for you and vice versa. In order to bring more creativity into your life and business, start by acknowledging the internal "no's" that come to mind when you dream up something unique and stellar. And then try letting that "no" pass. What if you just said "hell yes!" and started planning to bring your idea to life?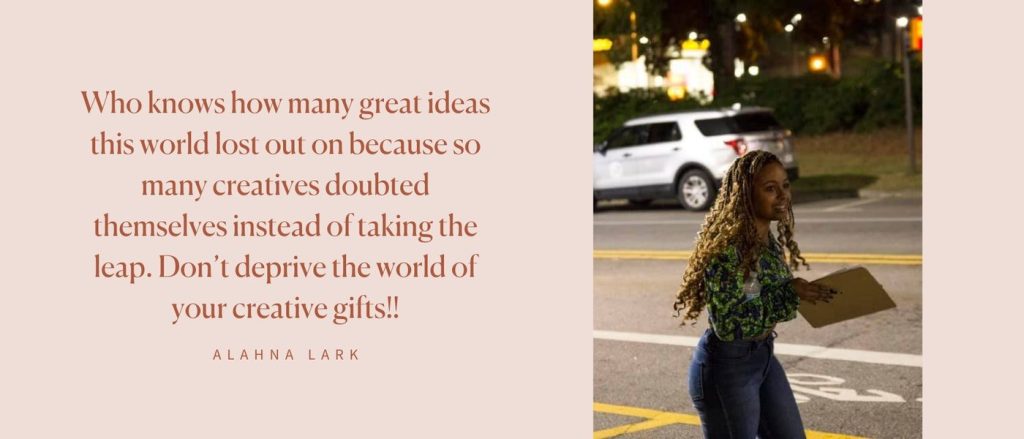 What or who inspires you to be more creative and what do you do to get yourself out of a creative rut?
I'm inspired by the amazing Black Womxn who came before me and told their stories when the whole world told them no one would care. I tend to get out of my creative rut by doing an affirmation practice where I set a timer for two minutes and thank these womxn; some whom I have met, some who raised me, and some who came and went long before me. Thinking about all of the obstacles your ancestors and leaders knocked down just for your path to be a bit smoother will get those motivational juices flowing enough for you to get back to it.
Also, sometimes if you're stumped that means it's time to take a break from that specific project, work on something else, and then come back when you're ready. And lastly, it's always good to acknowledge when an idea you had might not be the right idea for you to run with at the moment. That's okay too. Trust your gut.