10 powerful reasons to build your network and community with intention to grow in business
There is so much strength in having a powerful community of womxn in your corner. Here are ten reasons to start building your network with intention today:
1. You'll feel more connected
You will feel more connected and less alone when you (will inevitably) hit bumps along the way.
2. You'll be Inspired
You'll be so inspired. It's hard to underestimate how powerful it can be for womxn to see other womxn succeeding, even if they're just a few steps ahead of you.
3. You'll find time, tools and resources
You will have more time, tools and resources at your fingertips, meaning less grind and more ease.
5. You'll gain a support system and accountability
Your support system will help keep you accountable, with all the best intentions and willpower, it can be hard to stay on track.
6. You'll discover new collaborations, partners and clients
You could find your next client, collaboration or business partner, people with aligned goals and values.
7. You'll get new business leads
Your community can help you generate new business leads with less stress and hustle.
8. You'll grow friendships
You will build new friendships with like-minded womxn who have goals aligned with yours (plus, discover that making new friends as an adult can actually be easy and fun!)
9. You can improve your health
Your health and wellbeing will improve. Social connection can also lower anxiety and depression, help us regulate our emotions, lead to higher self-esteem and empathy, improve our immune systems and even lengthen our lives.
10. You'll be more successful
You will be more successful. It's not a zero-sum game – study after study shows womxn who support womxn are more successful in business.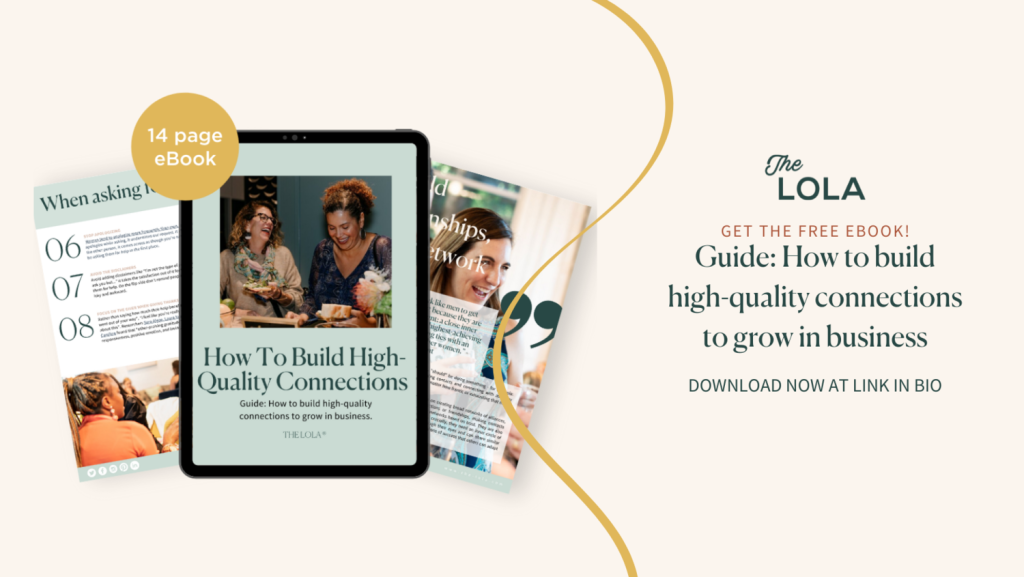 Female founders, freelancers and any womxn in business, start making connections, growing your network and building your community with intention now! Get our free ebook
Free guide: How to build high-quality connections to grow in business

Start today! Download our free ebook, How to build high-quality connections to grow in business and find the amazing strength of having a powerful community of womxn in your corner.
This free guide will help female entrepreneurs and freelancers plus any womxn in business build connections and grow their network in an intentional and purpose-driven way.
Build the community you need, in a way that feels right to you, no soul-crushing networking practices here! Get the support you need to thrive in business, plus make incredible new friends along the way.
Things you will learn about building high-quality connections:
How to build your connections with purpose and grow your relationships
Ways to show up fully when connecting with others
Ask for help in a way that will deepen your connections
How to raise up other womxn to bring you success
Want to supercharge your community and connections so you can grow and thrive with more ease and less hustle?
While there are so many benefits to growing your community, we know that it takes time, effort, persistence and whole a lot of patience. Intentionally being part of a community can help you supercharge those connections with ease.
The Lola is a womxn's club, workspace and digital community. Membership at The Lola gives you access to a rich slate of digital content, programming, workshops, courses, education and specialized community groups for professional development and business tools for womxn in business in Atlanta and beyond.
Find your community today! Click here to learn more!
---
The Lola is a womxn's club, workspace and digital community creating space for womxn to connect, grow and thrive. Learn more here and follow us below.
*We use womxn (pronounced 'women') to be clear in our commitment to inclusivity and intersectionality for all womxn.