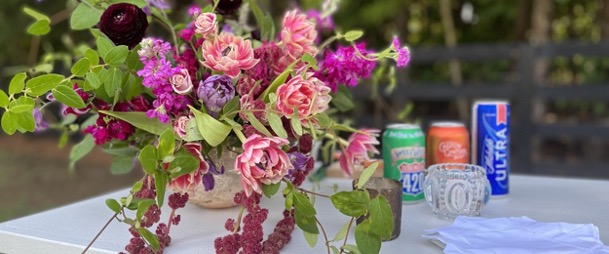 In August of 2021, I made the hard and fast decision to leave my job. In fact, I left all my jobs. Since graduating college years ago, I have worked jobs, had children, and lived life bouncing between the two. Never did I think that there was a way to do both, harmoniously and under my own control.
With a background in business, art, and the French language, I was never sold on a particular career path.
"I took whatever found me, provided an income, and allowed me to have children and a family life after I punched out for the day. Working this way forced me to pour my creative energies elsewhere."
I wanted to reconnect to the things that were important to me
Shortly after my daughter was born, these memories began to surface that I had not paid much attention to with my boys. I reflected on gardening with my mother and grandmother, and I wanted to find this connection to nature with my own daughter. Luck brought me to a good friend and floral designer and just like that, my 'side hustle' took shape in Each Day Florals.
Fast forward to a cross-country move (for my husband's career), more bouncing from job to job for me and still styling flowers on weekends, late evenings and whenever I found "me time". I would take my daughter foraging for greenery, hand her spare blooms with which to play and would chat with her about what big parties I'd be helping to decorate. I'd have my boys help me clean buckets and load the car when I was heading out for a delivery. I tried to do both, include them in my interest in flowers and still be present for my day job. But I was exhausted. I would wake and leave for work before their alarms went off for school.
"I worked overtime and although I was promised to be able to come home in the early afternoons, this was never the case. The days were long and defeating, truly the definition of the daily grind."
My career was making me miserable
Worse than missing so much with my children, husband, and friends, was being with them and being miserable. I drove home a tired, grouchy, and angry woman who was not what my childhood self imagined for me.
And then COVID hit, and the world stopped. Socializing and entertaining stopped, we locked down and all took a closer look inward. The flower moments that I treasured, freelancing with flower friends, and designing florals for local events, came to a screeching halt. I felt, as did much of the world, that something precious had been stolen from me. My family and friends stayed healthy and hidden indoors. Thankfully, we appear to be on the other side, and I still have all my people in my life and all in good health, that fact is not lost on me.
As the pandemic reshaped and people began venturing out again, there was a backlog of entertaining events. All the delayed and rescheduled weddings, graduations and token birthdays had piled up and I was getting barraged by freelance requests and even my own small event inquiries.
Some connections I had made in our community were spider-webbing out

.
Bigger designers were handing me the small jobs that they didn't have the bandwidth to undertake. People could do a Google search for 'florist' in my area, and I would pop up based on the jobs I had done solo and the small client list I had built.
"The floral network in the south is vast but a beautiful community and we intermingle, sharing referrals and helping on jobs."
Carving my own path
It finally dawned on me that I had taken on so much for fall of 2021, that maybe, just maybe I could approach my husband and suggest I take the plunge. This brought the realization of just how miserable I was from day to day, and that there was a glimmer of hope. So, I took a deep breath, channeled bravery I did not know I had and left a job that was not fulfilling in the least, to carve my own path.
Life is an ever-evolving process
It has been a process, a long one that is far from over. First, I decided on my company name, each day florals. I had used this title for some time, but casually. So, I created an LLC online, started the application process for a business license, snuck my way into wholesale accounts and started to pull in all the favors from friends. I needed a website, so I had a friend set me up with Squarespace. A friend of a friend designed a logo to represent my brand identity. I paid a pittance of what she deserved, but she accepted because she is a creative who knows the value in helping those in our industry get started.
To finish the license process that I had stalled out on, caught in a loop of zoning red tape, I found a neighbor accountant to guide me to the end. To drum up business and interact locally, I held workshops in places I could reserve space for free, from friends through the kids' school. My best friend's father designed and built an unbelievable wall of shelving in our garage to create my own studio and my husband gave me a floral cooler for Christmas. For marketing, I did, and still do, give away a LOT of free flowers.
"Karma (and hard work) will bring those favors back as future jobs."
One part of the process that was not something I anticipated when I jumped on this wild ride is how frequently I need to self-advocate.
I set my prices and create my own systems. I have to know and project that what I am doing is valid and worthy. Not all agree with my costs and designs. Then, defensively, I struggle with how much behind-the-counter information I provide. Should I rationalize my costs to every person who questions a price? Am I falsely acting bigger than I am when I stand firm on my costs? On the tail end, when I have to collect on monies owed, how hard do I press?
Without anyone else to stand behind me, I am alone in making the rules and enforcing them. It is a thing of beauty to have that liberty to set my costs and choose my clients and projects, but it's also challenging. I am often reminded that floral design is an art, and therein it is subjective. I may not meet the client's vision although I thought I nailed it. And then I have to consider my options: offer a refund, reduce cost or support my design and stand firm in what I created?
"These are questions that arise every day and I am alone in finding the solution; it's liberating and frightening, and I have to be ready to ride these waves."
Leaning into my values
Internally, I focus on honesty and ethics. I won't price gouge just because a client is high-end. In fact, most come to me having heard that I worked my ass off on a job because the client deserved the best but had a limited budget. I retain 5-year-old prices (when we first landed in ATL) for those very first clients that still order from me today. I believe in giving back and volunteer 'floral services' often.
I respect how important it is to reinvest in our community; I examine every opportunity and client and make sure that what I am doing for them is right and appropriate.
Sometimes there is a need, but no budget. When it is for the right purpose, I will make there be a way to support their floral vision. I get to choose something I had never been able to do job after belittling job.
Today, I have a career. My side hustle is 24-7 and allows me immeasurable benefits. I work creatively every day, making art with flowers and putting my hands on nature's beauty time and time again.
"Equally as important as what I take from my career is what I give."
I have the flexibility to respond to my other responsibilities when I need to
I give myself to my children when they need me. I can stop what I am doing at any moment and help with homework, drive one to a friend's home or sports practice. I schedule my commitments around their school, sports, and life events. I still miss things from time to time, that's normal and I don't beat myself up over it, but just yesterday I made ramen from scratch and got to wake up my newly minted 14-year-old and be with him at the start and end of his birthday. I chose to be present for his big day.
"I will continue to say yes to what fulfills me. I will say no when it compromises my integrity or my time with my family. In leaving my job and creating a career, I got back so much that I didn't even realize was absent – a work/life balance, a sense of self and the opportunity to choose what works for me.
About Amy Phelps
Amy Phelps is a Member of The Lola and Founder of Each Day Florals.
If you're planning a private event, corporate event or wedding that requires florals, let's talk!