Vanya Francis believes that while creativity might be an individual process, it requires the strength of a community.
The Lola member, Vanya Francis lives life fully and compassionately through her values. She believes that creativity is a quality that allows us to "not just survive but thrive." When she isn't using her creativity to create an impact within her work, you can find her having a dance party or enjoying time with friends and family.

Vanya Francis
Location: Atlanta, GA
Age: 42 years
What I do: The founder of Cherished Life
Briefly describe who you are, what you do for work and for fun
I am the founder of Cherished Life, which is a boutique yoga and wellness company located in Atlanta. We offer compassionate care and holistic wellness during pre-conception, pregnancy, postpartum and beyond. My primary services include Pre and Postnatal Yoga, Holistic Birth Doula support and Holistic Health Coaching. My signature wellness product, Cherished Tea, is an herbal organic ready-made iced tea to support women at all phases of their reproductive cycle.
In addition to my work at Cherished Life, I've served as an instructor at my alma mater Spelman College where I introduce students to yoga and meditation techniques with the goal of helping them understand the relationship between the mind and body, promote mindfulness and health, and reduce stress.
Above all else I am a mother. My children Taraja and Awotunde, ages 13 and 4 are my greatest teachers and serve as the inspiration for everything I do. When I'm not teaching yoga or making tea, I love having impromptu dance parties in my living room with my children, taking long walks in nature, sipping almond milk cappuccinos and spending time with friends and family. Share your career story with us including anyone who inspired you along the way
I began my career in education as a teacher, which later led me to acquire knowledge in SEL (Social Emotional Learning)- I worked as a coach my last couple of years in the field. I enjoyed this work because it really spoke to my teaching philosophy- understanding the whole child, and providing services that supported their emotional well-being.
I trained in fitness for 15+ years, competing in my first body-building show in 2016. I always had a love for fitness and helping others, so I went on the gain PT certifications while working full time in my career. My training coach at the time, Tissili Rogers, really inspired me to further this work. She gave me opportunities to coach as her assistant, as well as her corporate wellness efforts.
In December of 2019, I decided to pursue coaching full-time. My daughter was then a senior in high school, and I was ready to take the leap. Of course, I was met with the pandemic shortly after, but I truly believed I made the right decision and there was no turning back.
I'm currently building my coaching business, e-commerce store, as well as creatively working on different projects. My goal is to be the first multi-millionaire in my family.
Share your career story with us including anyone who inspired you along the way
I worked in marketing and business development for Cartoon Network Enterprises at Turner Broadcasting in Atlanta for seven years before the company downsized and I was laid off. I always say that the lay off was a gift from the Universe because without it, I don't know if I ever would have tested the waters of entrepreneurship. It took me a year and a half to determine my next move.
I launched my first yoga and wellness company, Om Point Yoga, with a friend and business partner in 2013. Alison and Alphonzo Cross, former owners of BoxCar Grocer in Castleberry Hill, were instrumental in the launch of my yoga career. They allowed me to host yoga classes out of a beautiful space at the rear of their store for a nominal fee.
Cherished Life emerged in 2014 when my business partner and I went separate ways. From 2014-2016, I owned a brick and mortar yoga studio. I am grateful to April Warhola of Cafe of Life for allowing me to house my yoga studio within her facility at that time. When Cherished Life closed its physical doors, and after having my second child, my vision for Cherished Life evolved to focus on pregnancy and childbirth.
Cherished Life was born from my personal passion for holistic wellness, which started with yoga and has expanded to include holistic health coaching, wellness products, and doula services. There have been so many people that have helped me along the way. Belinda and Ira Francis, Jessica Francis, Octavia Raheem, Chelsea Jackson Roberts, Phnewfula Frederiksen, Shaconna Haley, Kemiko Lawrence, and the members of Ile Ori African Cultural Center are just a handful of the family, friends, colleagues, and mentors who have been a constant source of inspiration and encouragement.
What does success look like to you and how has that changed over the years?
Success, which is also my "why", looks like building a legacy and generational wealth for my children and future generations, while intentionally creating a life I love that serves my highest destiny and leaves this world better than I found it.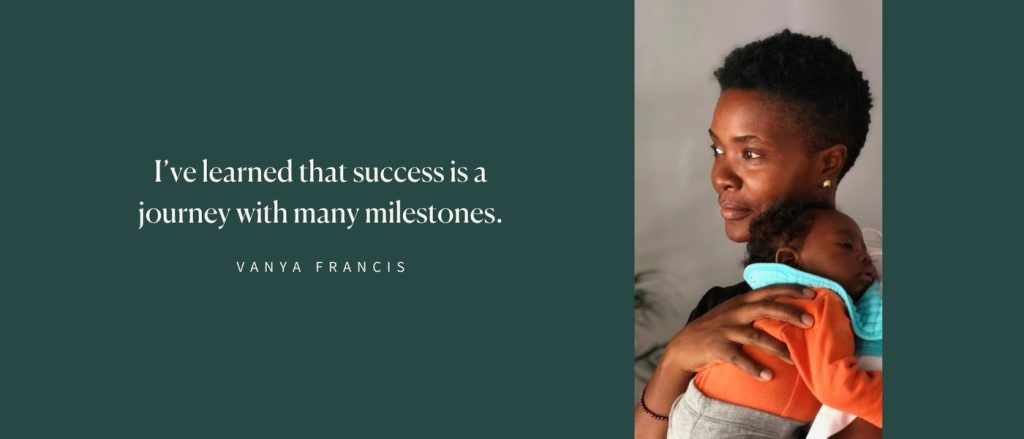 Financial freedom, intentionality, being in alignment with what means the most to me, and service are critical to this equation. In life, sometimes you win, sometimes you learn. Over the years, I've made it a point to celebrate my wins, successes, and milestones. I used to think success meant setting a goal and achieving it. That goal was often based on an external standard. I now know that the most important standards are the ones I set for myself.
What struggles have you faced in your career? Did you overcome those struggles? How? What did you learn as a result?
It has taken a lot of trial and error to get where I am today. While my grandfather and great-grandparents were entrepreneurs, no one in my immediate family is a business owner. I grew up believing having a successful career meant working for someone else. There were very few examples for me to model myself after. Entrepreneurship can be lonely and often uncertain. That's why it has been important for me to seek out other entrepreneurs and communities that contribute positively to the new narrative I'm writing for myself. Staying connected to spaces that advocate for and actively provide multi-level support for both my personal and professional development like The Lola, and my spiritual community have been critical to my success. Also, knowing my strengths and weaknesses, asking for help when needed, and honoring my capacity to give are personal practices for self-preservation.
Having a professional background in marketing and business development means I can comfortably take on multiple roles within my business. However, I've learned that just because I can, doesn't mean I should. Recently, I've invested in a business coach, hired affordable graphic design assistance and have mentors that provide compassionate accountability for where I am in the life cycle of my business. Support, support, support! That's how I've learned to overcome challenges. I know that if left to my own devices, I'll be paralyzed by perfection every time. So, I've made it a priority to put the necessary resources in place to ensure my success.
The Alchemist by Paulo Coehlo is one of my favorite books. The story is "an eternal testament to the transforming power of our dreams and the importance of listening to our hearts".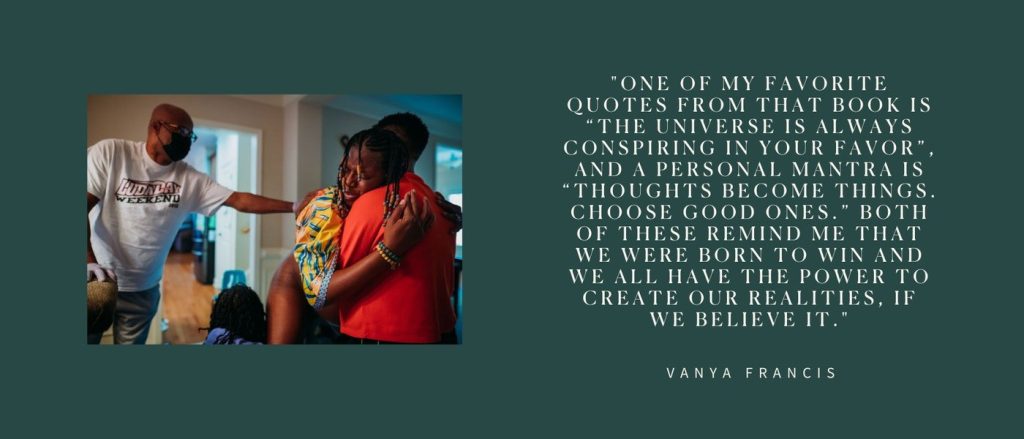 I've suffered significant losses over the years as I've worked to build Cherished Life. Each of those challenges have been alchemized for my own healing and growth through focused intention, deliberate effort, and grace.
What does creativity mean to you? What do you do as your creative outlet?
Creativity to me means freedom in mind, body and/or spirit to make or produce something meaningful. Dance, yoga, and mindful movement are all forms of creative expression for me.
Do you think creativity is important in business? If yes, why?
Yes, I think creativity is important in business. In business and life, things are constantly changing, requiring us to be flexible and adaptable. We've all heard the expression, "the only thing constant is change."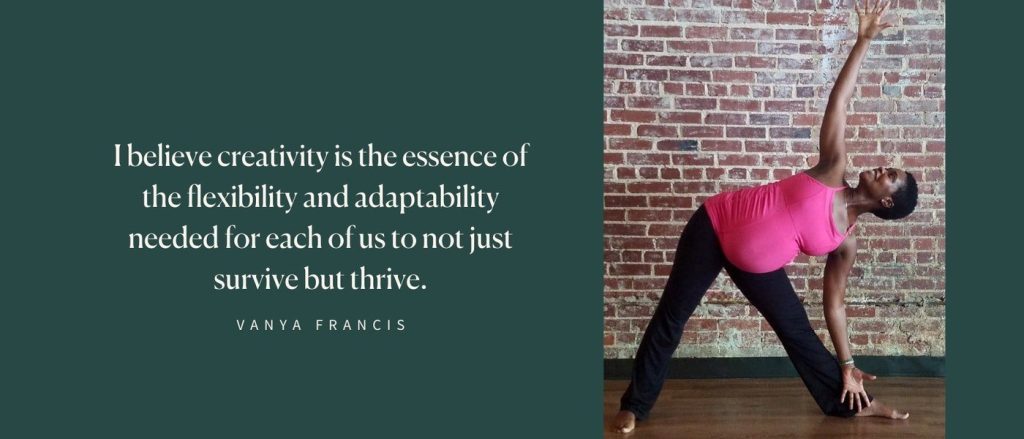 What or who inspires you to be more creative and what do you do to get yourself out of a creative rut?
My entrepreneur friends and mentors serve as a constant source of inspiration for my creativity. I also listen to a ton of podcasts and have a stack of books next to my nightstand that I read based on my mood and needs.
I am most creative when I am rested and actively prioritize my well-being. There is a Sufi saying, "Always give from the overflow of your well, not from its depth." I love this quote because as a single mother, entrepreneur and woman who is deeply committed to her personal passions and community, it's important for me to recognize my own capacity and limitations. When I'm depleted, I cannot show up for myself, children or community fully. I also have very little to draw upon creatively for my business. To get out of a rut, I prioritize rest by taking a nap, going to bed early, meditating, and practicing restorative yoga. I pour into myself and do things that will ultimately replenish my energy. When I honor a regular meditation practice, for example, I can rarely finish my meditation before a great idea comes to me; I have to resist the urge to stop and write it down.