The Lola is celebrating its fourth year in business this July. It's a women's coworking space and community in Atlanta, built for women, by women community.
"We couldn't have built The Lola without the support of this powerful women's network."

-Martine Resnick and Eileen Lee – Co-Founders, The Lola
In that spirit Martine and Eileen are delighted to expand their team and bring on Dana Xavier Dojnik, who joined The Lola last year to help with community management, to lead our growth strategy moving forwards.
Dana Xavier Dojnik – Community Growth Strategy
We are delighted to welcome our newest team member Dana Xavier Dojnik, who joined The Lola last year to help with community management and is now utilizing her talents to focus on our growth strategy working alongside our founders.
Previously, Dana launched CreateATL, as the former COO, and Chief Culture, Happiness & Growth Officer at CreateATL, the first Public Benefit Corp providing affordable coworking, event and maker space for forward-thinking nonprofits and entrepreneurs, Dana successfully led a rich and diverse community like ours.
Throughout the past seven years, Dana has dedicated herself to advancing female growth in leadership. Joining The Lola gives her an excellent opportunity to continue this mission alongside a group of purpose-driven women who are committed to connecting, supporting and creating together.
Meet Dana!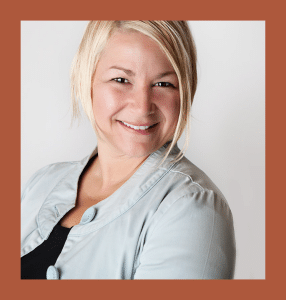 Hi, It's Dana! Mom of 2 and a bulldog named Blue. I live for connecting the dots and lifting up others. A tech geek at heart and happy to chat XR, AI, NFTs and Web3 anytime. Having sand between my toes and digging in the dirt –  are my therapy.
Things That Bring Me Joy:
Speeding d

own

 Hills on my bike

New York in Mid-October

Making Introductions that may change someone trajectory 

Hugs (with everyone) and snuggling close with my kiddos (while they let me) – Pfeiffer, 9 and Parker, 12
I love The Lola because…
My life has taken several drafts and revisions to get it just right. And continuing my growth with The Lola team and community feels like the right path in life's adventure. And after working primarily with men for 20+ years, I sincerely love walking into The Lola and being surrounded by collaborators, connectors and women who care.
Things I bring to The Lola team:
A smile and laughter each day (especially when Dayle is around)
Joy for others' successes
Enthusiasm to try new things and fine-tune them freely
20+ years of mistakes that I have learned from along the way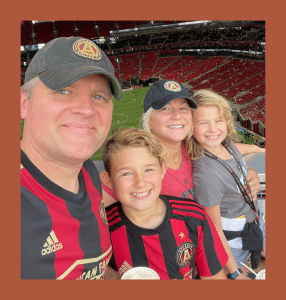 A few things you should know about me:
I am a 6x century cyclist who needs to ride more these days – so I am always up for a bike ride!

A hot cup of coffee, warm apple crumb pie, and Vinho Verde on hot summer days are my faves.

My family and I are HUGE Atlanta United fans.

When I moved to Atlanta in 2006, I found my love for bulldogs (no I didn't attend UGA). PorkChop, Applesauce and now Blue who snorts and snores his way to my heart. 

 
Sagdrina Jalal – Legacy Leadership in The Workplace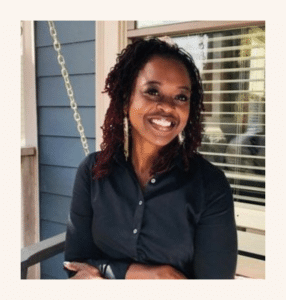 In addition to our physical growth, we're excited to share that Sagdrina Brown Jalal has joined our board at The Lola. Sagdrina focuses on fostering intellectual growth through her Legacy Leadership programming and partners with The Lola on our Intentionally Inclusive efforts to better support our Black women leaders.
Through her consultancy SageD, Sagdrina's work thrives at the intersection of community and innovation. She cultivates and delivers transformational experiences for executive teams, revealing the power of healthy communities through equity advancement. Her program, Legacy Leadership, looks at the experience of the leader holistically, through three core lenses: care of self, community activation, and legacy building. Sagdrina states,
"Our program equips leaders with the skills and tools to engage with a wide range of communities, create equitable opportunities for all, and build sustainable, thriving legacies." – Sagdrina Jalal
Dayle Bennett – Community Director, Member Experience
Dayle, our sparkle and sunshine, has been promoted to Member Experience Director and leads our powerful team of Community Managers as well as hosting special events and programming for our community.
Meet Dayle!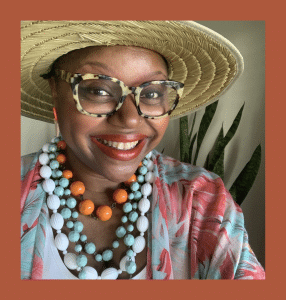 Hi, it's Dayle with a Y. A Bmore girl living in the ATL! Lover of dogs, 80's hip hop, glitter, and cotton candy. Most of all I love design and things creative!
Things I do at The Lola:
Events and Community. I joined the team to lead our events and community manager team. I am also going to be taking an active role in community building and I will be a friendly face for Members to connect with at The Lola's physical space and support their needs.
Things that bring me joy:
Art journaling and other crafting things, watching sports, go thrifting, sightseeing. What lights me up is being a cool space to hang with my friends and family.
I love The Lola because:
I can be myself. It's a powerful feeling when you are surrounded by other womxn who are positive, supportive, and encouraging. The vibe is really good here.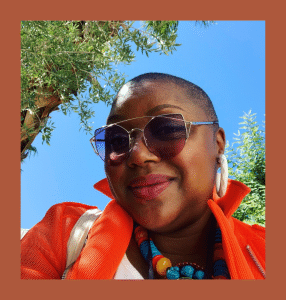 Things I bring to The Lola team:
My sunshine, creative leadership and expertise, and of course my Dayle-isms'
A few things you should know about me:
I love all 80's and 90's music
I am inspired by beautiful spaces
I like to chat
I'm a hugger
Dancing is always an option
Lisa Garay-Marines – Manager, Digital Content and Marketing Communications
Lisa Garay-Marines has been promoted to Marketing and Content Manager and will continue to work on digital content, communication and marketing for The Lola. Lisa just graduated from Georgia Tech with a B.S. (Highest Honors) in Literature, Media, and Communication Major with a focus on Media and Communication.
Meet Lisa!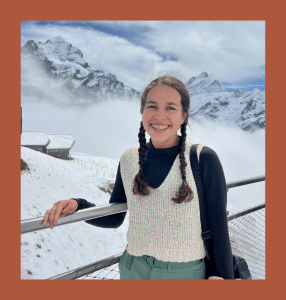 Hello! I'm Lisa, and I am a recent Georgia Tech Graduate! Outside of work I love all things creative whether it be through film, fashion, or writing. In my free time, you can find me thrifting or frolicking through the streets of Atlanta.
Things I do for The Lola:
Digital Content and Marketing Communications. I create Internal and External comms pieces. I loved what I learned in school and have been producing content for The Lola community for a little over a year now. It has brought me so much joy to be able to create meaningful content for an organization like The Lola and connect with such amazing womxn.
Things that bring me Joy:
So many simple things can bring me joy! I may be shy at first, but once you get to know me, you'll soon learn I love people! Being outdoors and enjoying nature is something I try to work into my daily routine as much as I can.  I have a love for learning so traveling is something I value and hope to be able to do for as long as possible.
I love The Lola because…
Seeing such amazing, smart, womxn share their stories and be so willing to help others is why I love The Lola. The foundation and experience they provide for womxn is something I value and admire within a work environment. 
A few things you should know about me:
I am born and raised Mexican! I love all aspects of being Mexican, especially the cuisine.
I love to run, its my preferred form of exercise.
My favorite place I've visited so far is Interlanken.
 Not only am I a huge music lover but love to collect vinyl records.
With school coming to a close for me, I have found more time to rediscover old hobbies, reading being one of them. My favorite book at the moment is Crying in H-Mart by Michelle Zauner
Megan Grant- Events Coordinator
Meet Megan!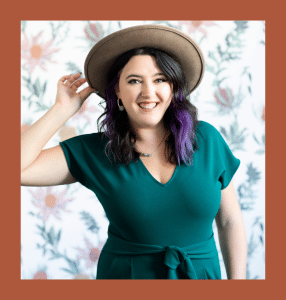 Hi I am Megan! I'm the Founder & Memory Creator for Cherish Tours. World travel for me is genetic. My parents took me on my first airplane when I was only 6 months old, and I've been hooked on exploring ever since.
Things I do for The Lola:
I am The Lola's events coordinator. I make sure events hosted in our wonderful space run smoothly and operate under our house rules. It can take a lot for a vision to come to life, so I am their to support our members and other welcomed guests to make sure their visions come to life when they are at The Lola. My process spans from the pre-event planning and logistics all the way to post-event strategizing.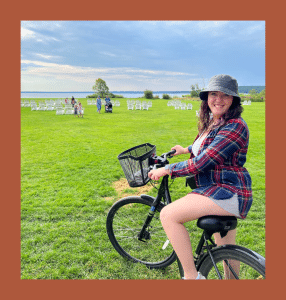 Things that bring me joy:
Doggos
Wine
Musical theater
Fuzzy socks.
I love The Lola because…
The Lola has completely changed the way I'm experiencing entrepreneurship. It has given me a home away from home where I feel completely welcomed as myself. Walking through the doors to smiling faces, warm welcomes, and hugs from women who are all experiencing life through a similar entrepreneur lens is something I can't put a pricetag on.
A Few Things you should know about me:
You can spot me across the room, I'm the gal with purple hair.
I've been to 35 countries in my life and travel is where I am most joyful.
It's my belief that if women focus on what truly brings them joy there will be a ripple effect of compassion, intention, and understanding that will make a direct impact in our world.
---
Meet our Founders: Martine and Eileen

Hi I'm Martine Resnick! I moved to the US from the UK in 2007, for the past two years my family and I have been living in Spain, working remotely. I love coming together with womxn to strategize and plan so we can confidently build purpose-driven lives and personal freedom. My background is in marketing for media brands and consumer product companies. I truly love where creativity, marketing and data intersect and how these actions and insights can grow our businesses in amazing ways.
In my spare time, I'm an avid reader, love doing art with my kids, hiking, biking, swimming and making pottery creations.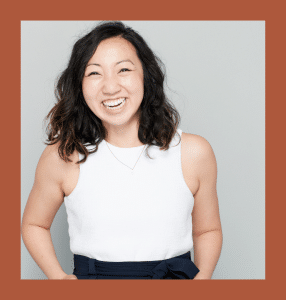 Hi I'm Eileen Lee! I am Second-time founder, recovered technology consultant and former COO of Venture for America. On the Changemaker board at Hands On Atlanta and on the board of Sur Legal and Spring Research Foundation.
Native New Yorker, first-gen Korean-American, cheese lover, culture-people-operations nerd and perturbed Scorpio. Grant Park resident with husband, sheepadoodle and 2 kids. #momlife: 5yo and 2yo old girls – both thru IVF.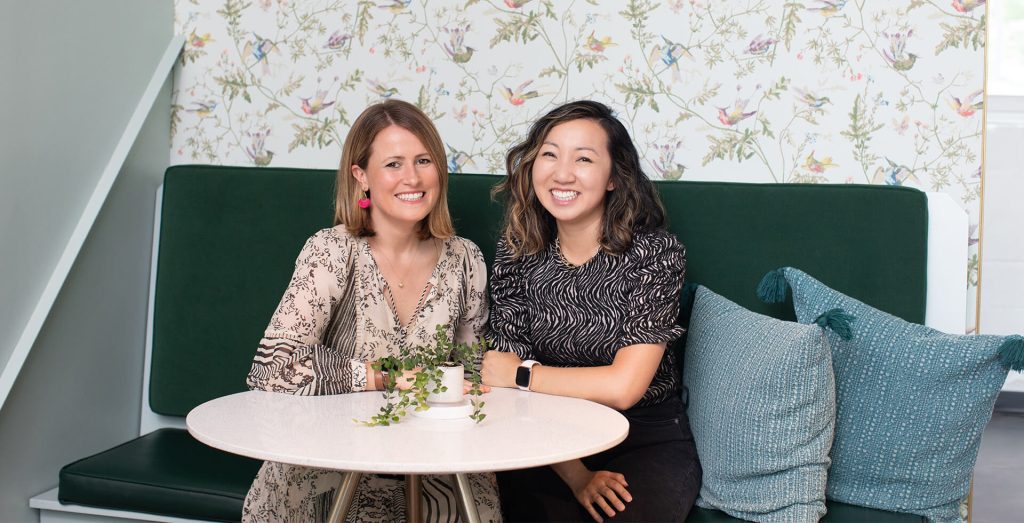 ---