This post may contain affiliate links. Read about our privacy policy.
In October 2015, after being diagnosed with Polycystic Ovary Syndrome (PCOS) and hypothyroidism, Kate Kordsmeier created Root + Revel, a holistic wellness blog with a focus on true mind-body-soul wellbeing, no dieting required!
Blogging as a profitable online business
Kate turned her blog into a profitable, purpose-filled business, and later sold it for multiple six-figures. She now runs her Success with Soul Incubator from Atlanta where she teaches entrepreneurs how to build wildly profitable, hands-off businesses, allowing them make more money while working less.
Create your blog today! Blogging for passive income and organic search traffic (without the need for social media or paid ads)
There are many benefits of blogging for business. Blogging is free content to drive organic traffic to your website (landing spot/home base) without the need for social media (using up your daily time and energy) or paid ads (using up your hard earned dollars!) 
Benefits of blogging for business.
Increased value for your customers
Increased community, it brings people together around common goals and challenges
Increased visibility for your business
Increased passive income, money while you sleep!
Increased sales for your business
Myth busting! Having a blog does not mean you're an online or social media influencer.
Many people shy away from blogging as they think it means they're an influencer. Not true!
It doesn't mean you're an influencer or a blogger in the sense it was years ago
Blogging is just free content to attract your ideal customer.
Say goodbye to imposter syndrome!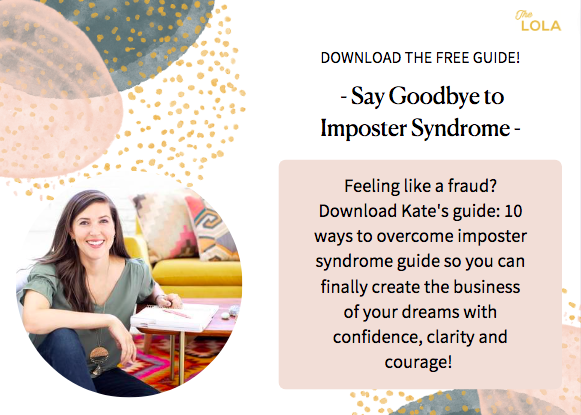 All websites are blogs
In today's digital landscape, all websites are blogs and all businesses need one.
If you have free content on your site, it's a blog.
You don't have to be an influencer to use blogging as a way to grow your audience and revenue for FREE.
Blogging doesn't have to just be a traditional written blog post either.
It could be podcasting where your show notes, transcript and podcast player are all included in a blog post.
It could be a YouTube video that gets embedded into your post along with some keywords like a caption.
Benefits of blogging for business. 10 reasons to start a blog
1. Blogging is the fastest way to show up in Google.
Blogs that include strong keywords in the title and the headings help your SEO and Google rankings. It's how potential customers will find you. You ideal clients are actually searching for you and ready to take action. VS. ads that interrupt people's search intentions.
2. Blogging is relatively passive.
Blogging is relatively passive, it doesn't take up too much active time. You can post just a couple of posts a month and let the blog do the work for you.
3. Blogging has a long shelf life.
Blog posts age well, in fact, they get better with time. The longer they're around the more Google likes them. Also, you can go in once a year to update them and keep them relevant
Tip! When you update them, you should reset publish date on a refreshed post, but don't update posts more than 1-2 times a year unless you make significant updates. You can't outsmart Google!
Remember: Don't put the date in your URL, that should stay the same. You don't want to change your URL as it will affect SEO and create broken links.
4. You can monetize the platform itself.
You can monetize your blog to create incremental revenue for your business through affiliate sales, ebooks, your own products, courses, ads and sponsors.
5. Online Ads Are Expensive and Unreliable.
You can't rely on ads to drive your business. Algorithms change, iOS changes, 3rd party cookies change, platforms can go under. FB ads management can be complicated and expensive. Only relying on ads is risky, but they can be a great compliment to your content marketing strategy.
6. Create Know, Like and Trust with your audience
If you don't have free content on your site it's going to be very difficult to nurture your leads and build know, like and trust. Free content can do that for you.
7. Blogging shortens the sales cycle
Already warmed them up, nurtured and given them value so they will make the purchase decision quicker. You won't have to sell so hard as you've already built know, like and trust.
8. You own the content
You don't own your content on social media or with ads. Don't build your business on rented land. Snapchat and Periscope are now platforms of the past.
9. You can repurpose your blog content
Have a Virtual Assistant go through your blog post and turn into LinkedIn posts, Pinterest pins, social posts, publish on YouTube. Get more mileage out of each piece of content!
10. Get more sales leads for your business
B2B marketers who use blogs generate 67% more leads than those who don't.
Marketers who prioritize blogging are 13x more likely to have a positive ROI on their efforts
57% of marketers say they've gained customers solely through blogging
Small businesses that blog see 126% more lead growth than businesses that don't
Create a serve-first strategy. Blogging is your ultimate top of funnel, attract marketing strategy
You'll meet your customers where they're at.
You create value and serve your customers by answering their questions and solving their problems.
Your blog posts become the instigators of this virtuous cycle in your business.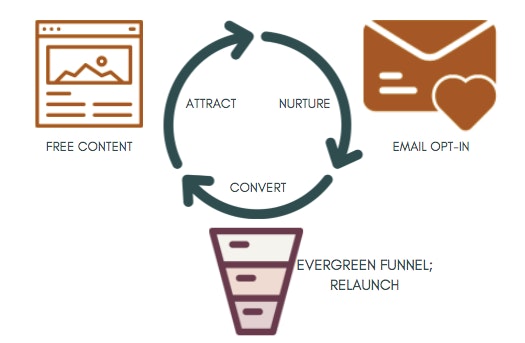 How does blogging work as an effective attract marketing strategy?
Customers search Google to solve a problem.
Google serves them a blog post from your website that solves their problem.
From there in the blog post you'll have an email opt in to get them onto your email list.
Then you'll send them emails that link back to another blog post or another piece of helpful content that will nurture them further.
Ultimately you sell them into your offer.
All of this is on autopilot in the background! You could write a blog post and a year later they go through this cycle and join your offer. You don't have to show up for any of it.
What should I blog about? How do I create organic content?
Your content needs to be intentionally aligned with and hint at your offer. What kind of content will pique their interest and strengthen their desire to learn more about what you'll be offering them?
Bust some myths
Answer questions they might have
Address objections before they even come up
Want to build a business that works for you? Generate consistent, sustainable growth? Create success with soul?
Stop the hustle! Grow your traffic and revenue on auto-pilot while working from a place of rest, ease and alignment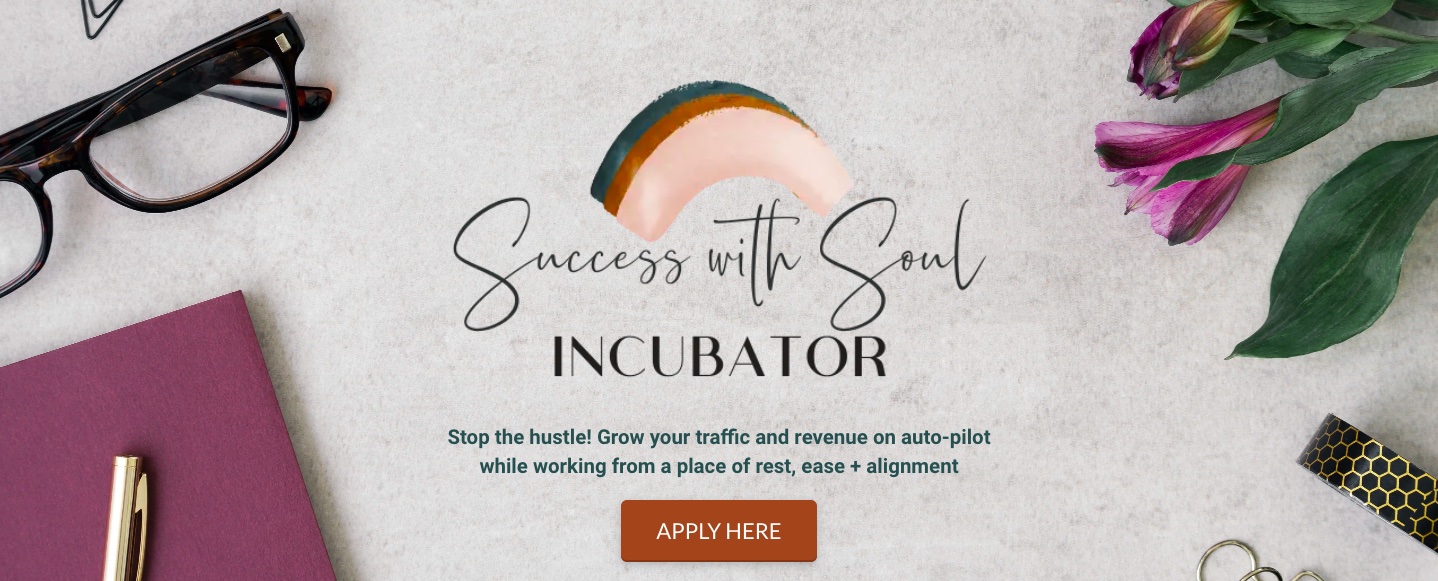 The Incubator Success Cycle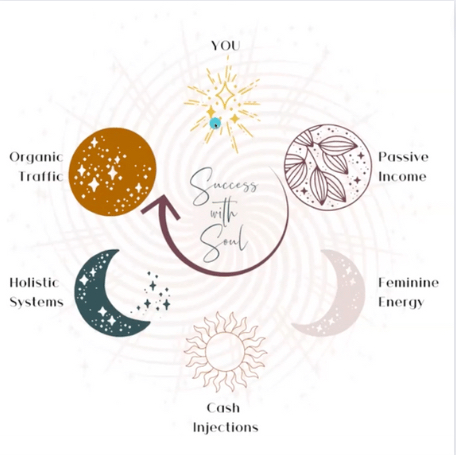 About Kate Kordsmeier
It is Kate's mission to revolutionize the way women live and work by supporting them to build highly profitable, soul-aligned and hands-off online businesses without burning out so they can reclaim their lives, and create massive wealth, power and freedom.
Founder + CEO of the Success with Soul Incubator.
Owner of online business since 2015 and have made over $1.5 million from my blog, courses and coaching programs.
During that time, she also had 2 babies (and taken 6+ months of paid maternity leave), dealt with chronic health conditions (hypothyroidism and PCOS) and crippling anxiety and panic attacks, took so many weeks of vacation, created incredible friendships and memories, and experienced more joy, freedom and fulfillment than I ever thought possible.
This post includes affiliate links, and we will earn a commission if you purchase through these links. Please note that I've linked to these products purely because we recommend them and they are from companies we trust. There is no additional cost to you. Read about our privacy policy.