Viewing problems as opportunities, November Nichols helps aspiring beauty wellness entrepreneurs find a blueprint for being intention and impactful.
November Nichols: an artist, wife, child of God, coach and mentor. These are what helped November build her two sister beauty and wellness  brands from scratch out of Atlanta, where her roots grow deep. Similar to other Lola women, November focuses on embracing others and working intentionally. When she is not focused on Maison Chémin and L'Artisan Muse, then you can find her with her husband and a glass of champagne or planning an exciting or exotic trip!
November Nichols
Location: Atlanta, GA
Age: 49 years
What I do: Founder of Maison Chémin and L'Artisan Muse
---
Briefly describe who you are, what brings you the most joy in life? How do you unwind and have fun?
I am God's Child and I absolutely love building and creating intentional beauty and wellness brands from scratch! As an artist I use fragrance as a guide to grounding and wellness, and also to uplift the community and the human experience. I believe that when we are fully grounded and present we are able to connect to ourselves, our purpose and others in a deeper and more complete way.
My roots are planted firmly in Atlanta. Growing up in a huge delightful family, I developed a love of embracing others and intentionally working to make their lives better!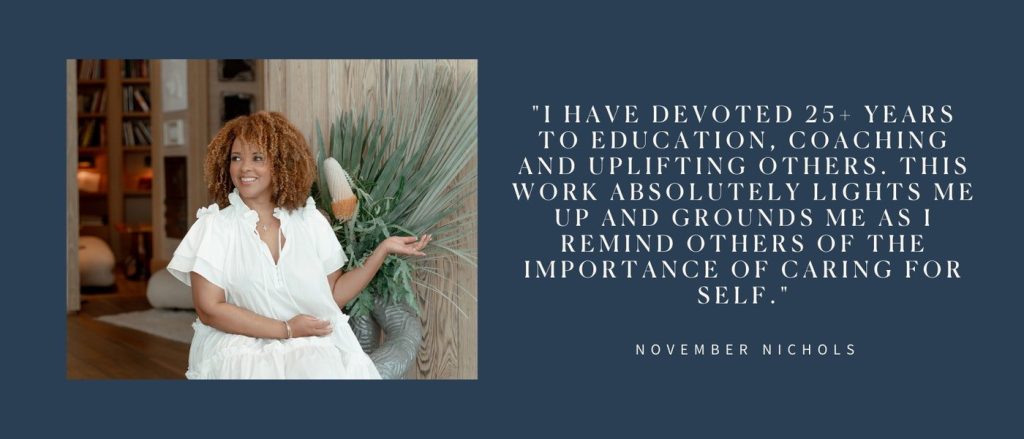 My motto is "self-care is not selfish; it's vital."
My craft and my family brings me the most joy in life.  My favorite way to unwind and have fun is to travel to exciting and exotic destinations.  When in town, I love spending time with my friends, winding down with my hubby and a great glass of champagne.
What is the key problem your business or company solves, who does it solve it for and how does it solve it?
We look at problems as opportunities :-).  With that, we provide aspiring and established beauty and wellness entrepreneurs with a blueprint for building intentional, impactful and profitable beauty and wellness brands. Helping others find their path while caring for themselves makes our hearts smile.  Whether they need to clear, align, transform, manifest, ground or rest, our team has created products that support these needs.  You can take the "Find Your Path" quiz on our website to intuitively find out what you currently need in your life or you can book a discovery call to discuss your business goals and find out how we can support you in achieving them.
Where are you right now in your life and career, what is your hope for your next chapter?
I am exactly where God wants me to be at this time of my life in my career.  I am working to build a global brand that will support others all over the world.  My next chapter will unfold naturally and will reveal itself in divine timing.
What wellness practices are a part of your daily/weekly life that help to keep you feeling balanced and grounded?
I practice meditation daily and have a tea routine each night that I share with my husband.
What are your thoughts about the concept "body before business"?
My thoughts about the concept "body before business" means so much more to me now than it ever has.  I recently had a few health challenges that confirmed more than ever the importance of taking care of yourself first, so that you have the strength to help others.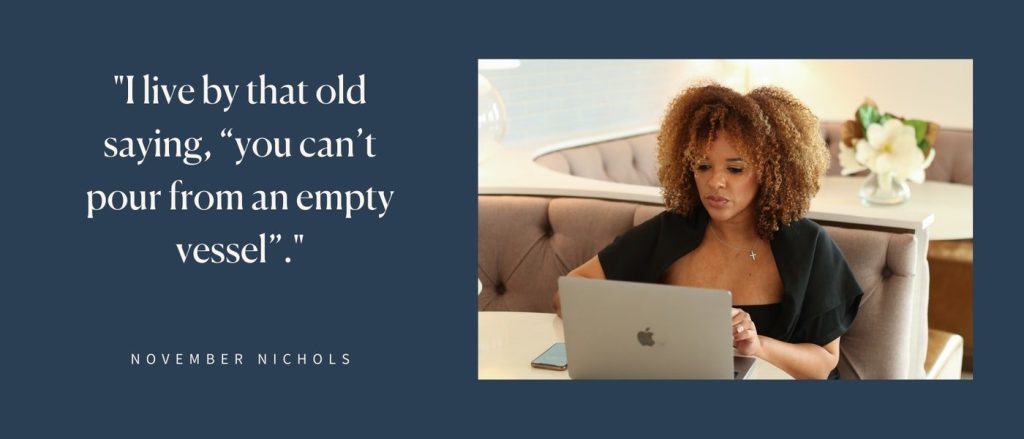 The 80 20 concept (20% of your efforts drive 80% of your results, also known as The Pareto Principle) can be hugely helpful in life and time management.  What three to five actions would you say drive the most value in moving your business and goals forward?
My meditation practice is at the top of my list for actions that drive the most value in moving my business and goals forward,  I use this time to also be still and open to downloads that propel my creative energy.  Planning supports me being intentional about how I spend my time and what are the most important things that need my attention.  Staying connected to new trends and entrepreneurial courses and articles also help me to drive the most value in moving forward, Weight Distribution- Hiring and Partnering with the right people.  You can not be a one woman show with a vision like mine.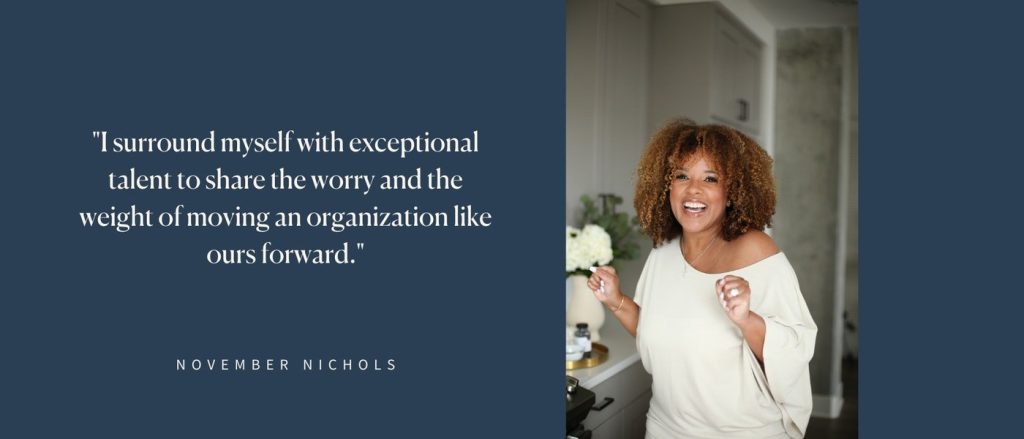 What tools, resources or processes do you use to help you streamline and automate your business and processes so you have more time to work on the stuff that really matters? (Share links where possible)
As an organization we use many tools that keep our team organized and efficient.  We use Slack to keep in touch real time.  We use Unum and Airtable to support our content planning, and we rely heavily on google docs to share ideas and gather feedback in order to move projects forward.
When you feel stuck, how or where do you typically find the help and support you need?
When I feel stuck, I step away from what I'm doing to breathe.  I also reach out to my team and/or my "circle of friends."  My circle of friends are a dynamic group of women who I met way back in my Freshman year of college and we remain as close as ever.  They are a dynamic group of women who have various gifts and talents I can tap into to get the support I need.
Post pandemic many people are changing how they approach life and work. Taking away all of the normal parameters we put around things (the hours we work, expectations of others, current clients needs, family needs) what would your "ideal" week look like, include all of your key priorities, such as; health, wellbeing, family, friends, love, hobbies, personal interests, play, joy as well as work? Be specific.
I have invested in using resources to support my key priorities.  My ideal work week would be a four day work week, where I could focus on my business during the day.  A chef prepares all of my weekday meals and weekly housekeeping provides me with the freedom and energy to enjoy my family at the end of the workday.  My morning activities include a walk through the neighborhood and my days off would find me indulging my creativity in creating, designing and reading magazines and motivational books.
Give/Get: What value do you bring to The Lola community and are there any special offers you'd like to make Members aware of right now? Is there anything else you need support with?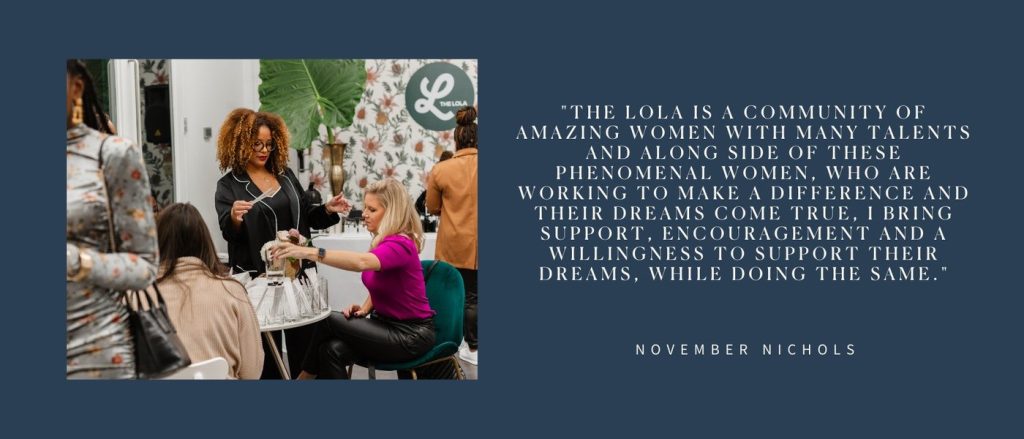 Member testimonial. In around 50 words or less could you share the biggest value The Lola has added to your life and career since joining? How has The Lola community and it's Members helped you find success?
I absolutely love The Lola.  It has provided me a space to bloom, network, share and grow :-).  I am in awe of all the amazing women who float through our doors and I am so grateful to be a part of such a dynamic community.