Monica Kerik believes that as a society we need a cultural and mental shift that reminds us that we are here to enjoy life. Read more here!
The Lola member, Monica Kerik has dedicated her life to creating a sense of Wellness and Wellbeing for others through her business Life Full of Goodness. She believes that as a society we need a cultural and mental shift that reminds us that we are here to enjoy life. When she isn't helping others you can find her trying new foods and traveling the world.

Monica Kerik
Location: Marrietta, GA
Age: 49 years
What I do: Owner of Life Full of Goodness
Briefly describe who you are, what you do for work and for fun
I'm a wife, mamma, fur mamma, daughter, sister, aunt, great-aunt, foodie, avid traveller, nature lover, thalassophile, paddle boarder, swimmer, bookworm, cappuccino addict, happiness advocate, TEDx Speaker, well-being & resilience strategist and a certified mental health coach.
Share your career story with us including anyone who inspired you along the way
For 15 years I worked as a Strategic Planner in different advertising agencies, I worked in Mexico for 3 years, London for 7 and then here in the US for 5 years. Eventually, I realized that to keep growing in that career, I would be required to travel. I realized that I wasn't willing to do that and leave my then 3 young children all under the age of 6. As soon as my last advertising gig finished, I signed up for a Buddhist class.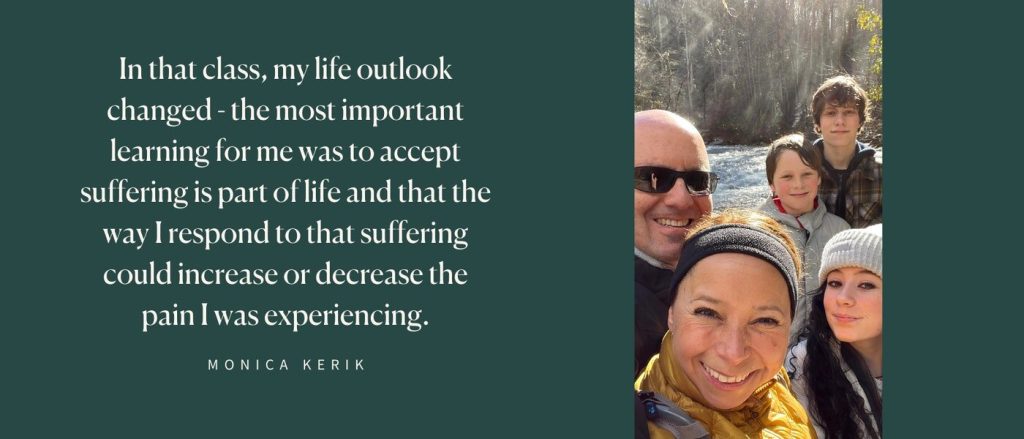 That realization got me hooked into learning tools and strategies that can help me navigate the ups and downs of life in a more fulfilling, meaningful way. I kept studying several courses and taking certifications in Buddhism, Mindfulness, Positive Psychology, Therapeutic principles and Organizational Leadership. I wanted to create a philosophy that would enhance my well-being with mindful, intentional actions that would contribute to feel good and do good. Those actions would start with ourselves, then with others and then expand to help the world.
That is how the concept of my company Life Full of Goodness came to life. At the beginning, Life Full of Goodness was a book idea, then a blog, then it evolved into a website with content and in 2017, I integrated services like custom-made workshops and programs for communities and companies. The last addition to the offering in 2018 was mental health & well-being coaching.
A big inspiration came from a movement called Action for Happiness. I fell in love with it's purpose of bringing like-minded people from all walks of life and helping them take practical action to build a happier and more caring society. I became their first volunteer in the US, leading the first "Exploring what Matters course.
Today, my and Life Full of Goodness' mission is to INSPIRE more mindful, balanced, and fulfilling lives, EMPOWER humans with tangible tools and strategies to manage stress, enhance wellbeing and boost resilience and SUPPORT continuity and accountability to create and cement positive change.
What activities take up most of your time each week and which areas of your life would you like to give more time and energy to?
After a lot of tweaking, I found the sweet spot to fill my days with the most important activities I want to do. These are divided into 4 buckets: Work, Home management, Me-Time and Connection with loved ones.
My workdays are scheduled from 10-7 and it is divided between Coaching individuals (70% of my time) Leading Workshops (10%) and learning, creating & writing workshops & blogs (20%).
One of the biggest things that I have learned is that I need 3 hours before I can start my workday to check in with my family, exercise and enjoy a cappuccino. I change up my workouts between strength & HIIT classes, yoga, swimming and long walks. By design, I take an hour lunch break and have a 30-minute break in the afternoons to welcome my kids back from school. I take these two breaks religiously.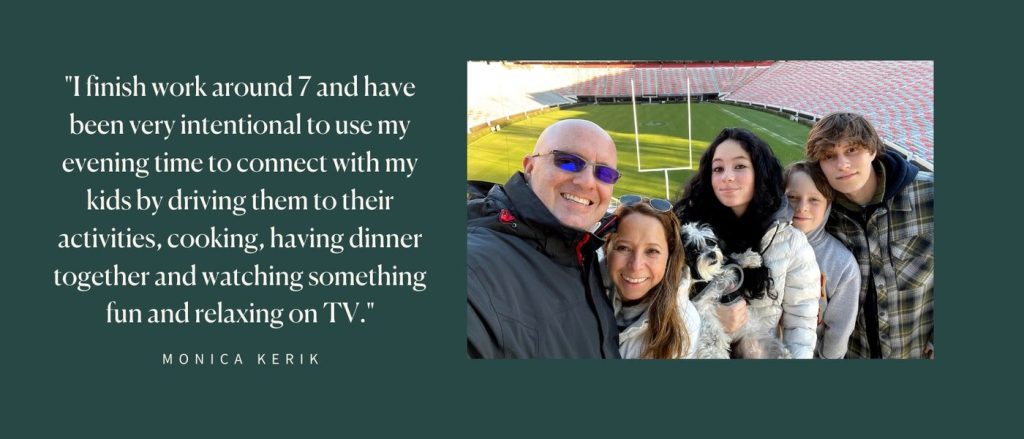 Once a week I go on a date with my husband and one evening I schedule seeing my friends.
Something I'm working on is planning weekend activities ahead of time. I want to add more visits to museums, concerts, day trips, something different than just hanging in our home and neighborhood. Something that is always at the bottom of my list is home renovations/improvements, and financial long-term planning. Both need more of my time and energy.
What wellness practices are a part of your daily/weekly life that help to keep you feeling balanced and grounded?
Sleep is always a priority for me! I need 3 hours from waking up to entering my office. That time is my absolute self-care strategy. As a coach, I need to be in the best mindset to serve my clients. That is how I fill up my cup before I am able to pour into the lives of my clients and loved ones.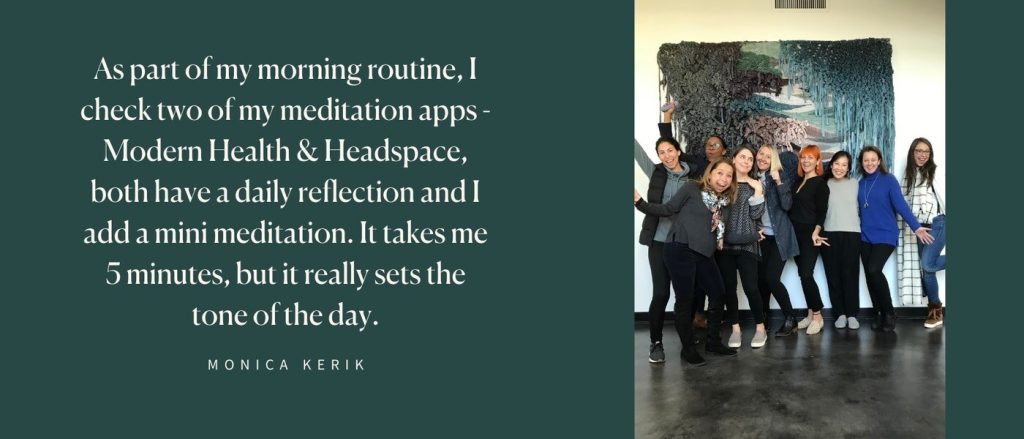 I drastically reduced my social media use, I took all the apps out of my phone. And thankfully, my husband's company manages my social media handles.
Family dinners are really important to me. Sitting down, enjoying food and reconnecting as a family brings me happiness, even if sometimes those dinners are full of disagreements and messiness, that's ok, we are together.
How does hustle culture make you feel and has stress had any negative impact on your life? If so, how?
I have always been against the hustle culture. I believe work is the means, not the end of our lives. It might be because I'm Mexican and in general, the Latin culture is more geared towards enjoying life and taking it easy.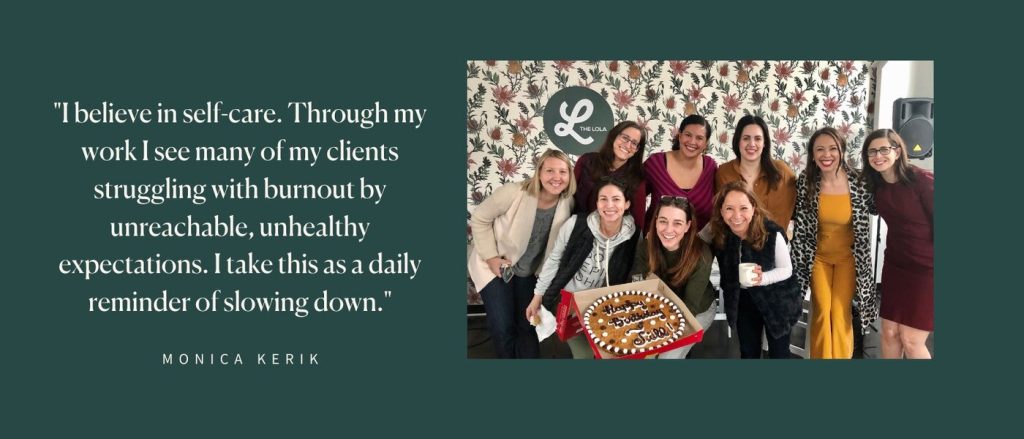 In an ideal world, what would a truly balanced and healthy life "ideally" look like to you, if there were no parameters put around it?
A balanced and healthy life for me means having enough time and energy to devote to all the different buckets in my life. For me, those buckets are directly aligned with my personal values.
At this point in my life, I feel I'm very close to a truly balanced and healthy life. It might be that I am very intentional about this because as a mental health coach, I see daily the effects of stress and anxiety in my clients and the positive transformation they experience when they re-evaluate their values, thoughts, expectations and priorities and get out of the autopilot mode.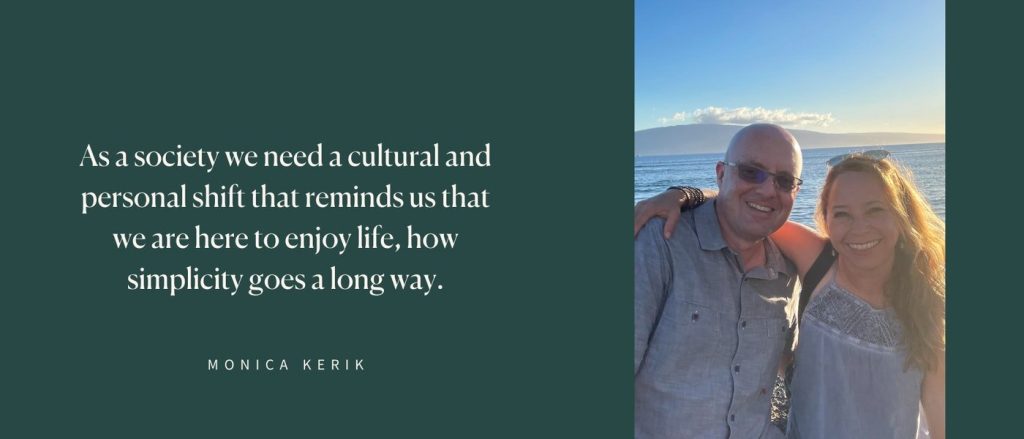 We need to protect our wellbeing and self care by placing clear, strong boundaries between our personal and professional lives. Sometimes we forget we have choices.
How do you feel in this moment of the pandemic? How has it impacted your mental health and wellbeing. Has the pandemic changed how you view wellness in your life and have you made any changes to your lifestyle over the past 18 months?
It definitely has been a challenging period, between the pandemic, the social injustice, the election, the insurrection, the gun violence, the fires and floods and the new COVID variants, it's undeniable that it has been 18 months of ups and downs.
My biggest challenge has been choosing not to travel to Mexico to see my family. I've been waiting for things to get better, but not sure when that will happen.
But the silver lining for me is that mental well-being has been front of mind for everyone as never before and that is a shift that society needed. The impact for me has been an exponential growth of my business and that has helped me cope with the challenges. I have become a channel to serve multiple companies and hundreds of individuals and that has brought lots of meaning to my life. The progress that I see in my clients fills my heart.
When I see the pandemic impact in other parts of the world or in other states, I can only count my blessings – health, lots of work and more time with my partner and kids.
Do you have any hopes (or personal plans) for a permanent shift in the way we work and live moving forward?
I love working remotely! That was part of the plan for my husband and me, both with our own companies that can operate from anywhere in the world. Our long term plan when all kids get to college is to have a small property in the US and the rest of the time, move around, keep our businesses and live in different parts of the world.