Kwajelyn Jackson has dedicated her life to bringing change to her community and to her change is what we need to survive.
The Lola member, Kwajelyn Jackson has built her life on the mission to create a world where liberation for the oppressed is achieved. Her dreams are big and so is her drive to create change for her community. When she isn't working towards these goals you can find her dedicating time to watching television teen dramas and vintage clothes.

Kwajelyn Jackson
Location: Atlanta, GA
Age: 40 years
What I do: Executive Director of Feminist Women's Health Center
Briefly describe who you are, what you do for work and for fun
I am the first Black Executive Director of Feminist Women's Health Center, a non-profit reproductive health, rights, and justice organization incorporated in Atlanta in 1976. I have lived in Atlanta since 1998 when I came to attend Spelman College. I am originally from St. Louis, MO. I currently live in East Atlanta with my husband, who is a graphic designer, videographer, and documentary filmmaker. I love vintage clothes, sleep, television teen dramas, and tattoos.
Share your career story with us including anyone who inspired you along the way
After college, I took a job at a bank in the Community Development Finance department, in part because I felt that this was the most mission centered part of the bank. While there, I got my master's degree in Policy Studies from Georgia State University. I worked as a credit risk manager for 8 years, lending to developers who built mixed-use/mixed-income affordable housing and economic development in low income communities. But over time I realized that I was actually participating in gentrification of the communities that I had hoped to help, so I left banking in 2009 after several bank mergers and the financial crisis.
I then worked for an arts and social change non-profit, initially as an unpaid intern, but ultimately as the program manager and art center manager. During that time I was more deeply introduced to many Atlanta non-profit community-serving social justice organizations and built some relationships in the activist communities.
After leaving the arts organization, I was referred to an opportunity for a volunteer coordinator position at Feminist Women's Health Center (FWHC) in 2013. I was then promoted to Community Education and Advocacy Director in 2015, and ultimately to Executive Director in 2018.
What does success look like to you and how are you breaking conventional ways of managing your work and your life?
My hope is to build upon the legacy of FWHC, to advance reproductive justice, to contribute to the path towards liberation for oppressed communities. Directing a non-profit is challenging, particularly in such a stigmatized and regularly attacked industry. I try to get a lot of rest and create boundaries to protect my well being.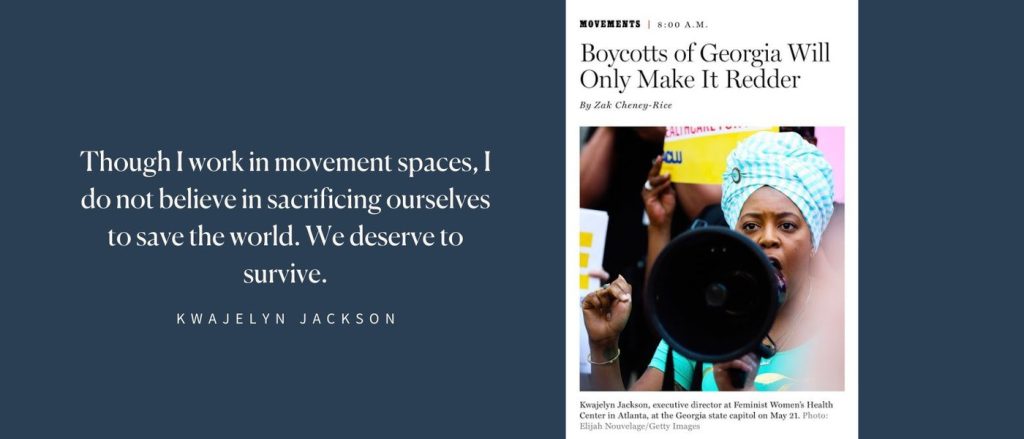 What change would you like to see in the world and how are you making your own mark?
My work and my life are informed by reproductive justice and Black Feminisms, and I believe that these frameworks are ways to upend oppression and systemic harm. Feminism to me has always been about being recognized and seen and valued as your whole unapologetically authentic self.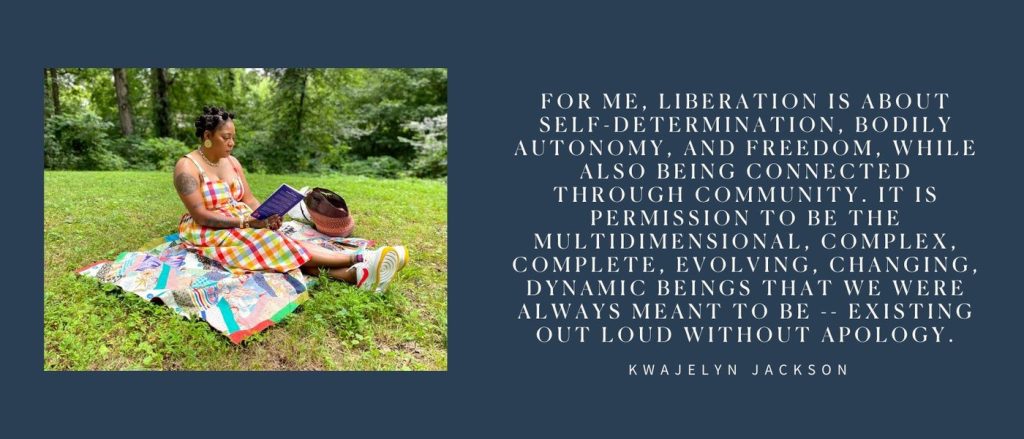 And that also means that you get to determine how you show up for yourself and for others. I think that feminists should trust themselves and their truth and their experiences, and question and challenge what they are told to feel and believe, but also be willing to grow and evolve in their thinking when presented with new information, particularly from people who hold identities and perspectives different from their own.
Do you think it's important for us to come together and collectively affect change in our own lives and the wider community? If so, why and how have you seen that be effective?
I believe that all forms of oppression are linked to one another and cannot be separated. I believe that the multiple identities that we hold complicate and compound the way we experience oppression and the world. I don't think one can compartmentalize their identities or the identities of others in order to deal with oppression or get free.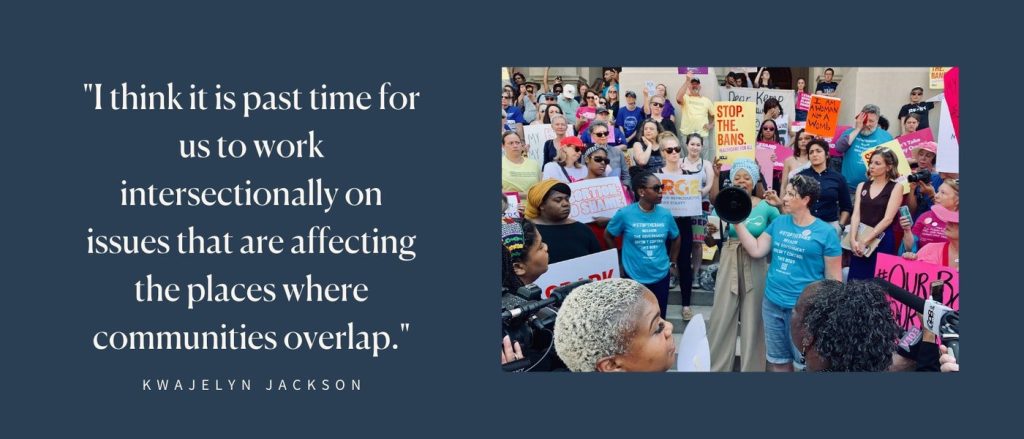 So for me I will never stop pressing for intersectionality in our movements above all else. That is the only way we can truly get free.
What or who inspires you? Do you have any role models who you aspire you? Can you name someone who is rejecting traditional definitions of success and how you have to achieve it and also someone who is helping others and making a difference in their own communities?
I am very influenced by my mother and grandmothers. All of them taught, all of them went to college, all of them were leaders. My maternal grandmother had a master's degree in education, and was the principal of a 4-high school complex and active in the civil rights movement. My mother worked in social justice and anti-oppression movements, and ultimately reproductive health as well, and now works with me at Feminist Women's Health Center.
I also think that sometimes for Black women, the drive to keep pushing comes from a form of internalized racial inferiority that tells us that we have to work twice as hard to be seen as half as good. That mediocrity is not acceptable for us and excellence is the only standard. We don't often give ourselves permission to make mistakes, to try and fail, to just skate by. I try very hard to not let perfectionism infect my life, but it seeps in sometimes. I think my optimism helps me trust that ultimately we will win.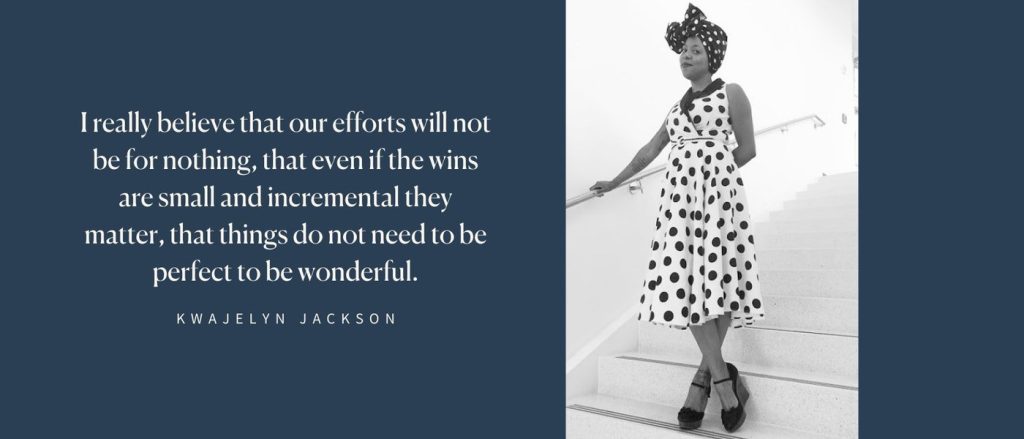 Is there anything else you'd like to share that may give us a better understanding of your personal story?
I think it is important to be your whole self everywhere you go. It is hard work to try to manipulate yourself to fit others' expectations, and ideals all of the time. I have found that if I am authentically myself in all the spaces I enter, others will adjust to me, to my presence, to the way I take up space. I don't think everyone has to get tattoos or wear red lipstick, but finding the things that make you feel the most authentically you and never compromising on those things, refusing to shrink.