Jennifer Singh believes change starts with individuals working together.
The Lola member, Jennifer Singh made a big change in her life, switching her focus from building products for companies to creating a community with a focus on sustainability: Understory. She is creating change in big waves for how sustainability is seen and adopted within our world today. When she isn't working towards these goals, you can find her spending time with her friends and family or adopting sea turtles!

Jennifer Singh
Location: Atlanta, GA
Age: 37 years
What I do: Creator of Understory
Briefly describe who you are, what you do for work and for fun
I am an innovator and community builder who is passionate about growing sustainable, value-driven organizations. This led me to create Understory, a global community that helps organizations use technology and innovation to make our world more sustainable. Understory offers educational resources, a podcast, and events to make sustainability accessible, practical, and actionable. We also help startups in the sustainability sector launch and scale their businesses.
Outside of work, I am very involved with local Atlanta organizations dedicated to supporting the advancement of entrepreneurs and professional women. I am the City Director of House of Genius Atlanta, and I serve on the Boards of Startup Atlanta and The Rebel Women. I love spending time with my husband, family, and friends on nature walks, at barbecues, and traveling. I am also a weather nerd and adoptive parent of sea turtles.
Share your career story with us including anyone who inspired you along the way
Before Understory, I spent most of my career building new products and businesses within large organizations and small startups. I worked in corporate innovation and digital transformation, helping companies embrace emerging technologies and pivot organizations to new ways of working. I worked with all the buzzwords – artificial intelligence, blockchain, machine learning, cybersecurity – to turn them into real software products. And while I had the opportunity to build some really cool experiences (like one of the first skills for Alexa!), I often felt that these powerful technologies could be better used to solve society's big problems – like the climate crisis.
At the beginning of 2020, my co-founder and I saw that sustainability was at a tipping point across all industries. Companies need and want to find ways to become sustainable businesses that lessen their impact on the environment, become carbon neutral, and make the world more sustainable. Organizations big and small have realized that it's not only the right thing to do, but also mission critical for their business. But transformation is no easy task.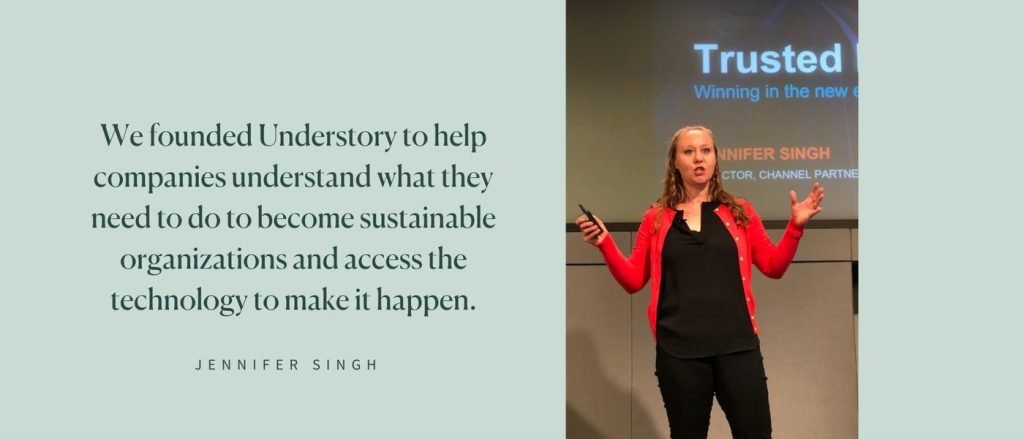 What does success look like to you and how are you breaking conventional ways of managing your work and your life?
My definition of success has evolved over the course of my career. While I was in the corporate world, I measured success through achievement and promotion.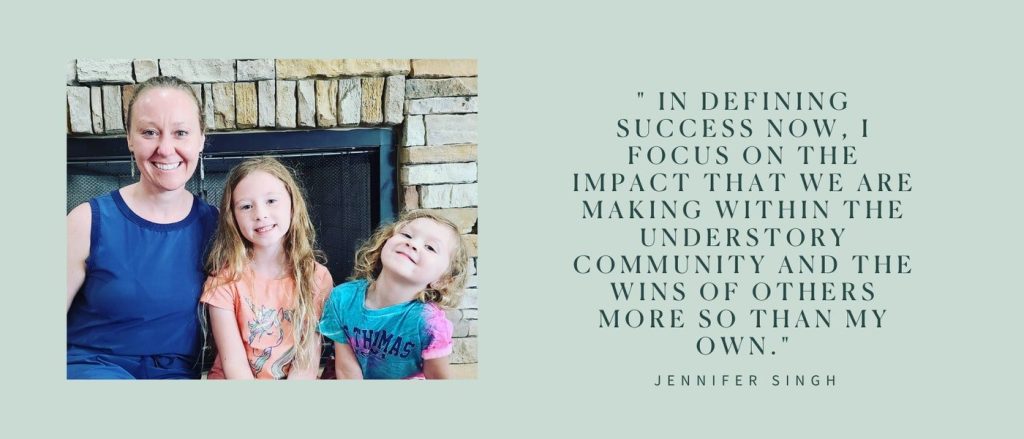 To date, three of our community startups have announced significant fundraisings, one has been acquired, and others have received countless awards. I love seeing our community thrive!
Moving up quickly in the corporate world was highly rewarding but it came along with stress, anxiety, and eventually burnout. In starting my own venture, I've prioritized a healthy workload and embraced flexible work hours to help me to stay balanced. I'll admit I still sometimes stress when I'm not quickly working through my to-do list (I'm a type-A overachiever at heart!), but I've learned to lean into productive periods and give myself grace when I'm unable to focus.
What change would you like to see in the world and how are you making your own mark?
Understory's mission is to bring light and innovation to a sustainable world. This means addressing great environmental issues including reversing climate change, reducing waste, restoring natural resources, preserving ecosystems, and more. It's a grand, lofty, and sometimes overwhelming ambition. But it's very much needed to overcome the climate risks and challenges facing society today. Technology is a great enabler and has a large role to play in creating sustainable solutions. Unfortunately, lack of awareness has kept these solutions from mass adoption.
My role, through Understory, is to create a cohesive community to explain, grow, and promote the innovation that's already happening in sustainability. We do this primarily through storytelling in a variety of formats – topical webinars, a podcast, and a monthly startup showcase that highlights entrepreneurs. We also work directly with early stage entrepreneurs to help them grow their businesses. We provide mentorship with leading experts, preparation of investor decks, and other marketing/content creation services. Through community and connection, I believe we can accelerate adoption of technologies that will make our world more sustainable.
Do you think it's important for us to come together and collectively affect change in our own lives and the wider community? If so, why and how have you seen that be effective?
Reversing climate change is a massive, complex undertaking, and the clock is ticking. There is not one silver bullet to remove carbon, waste, and all the other climate challenges that we face.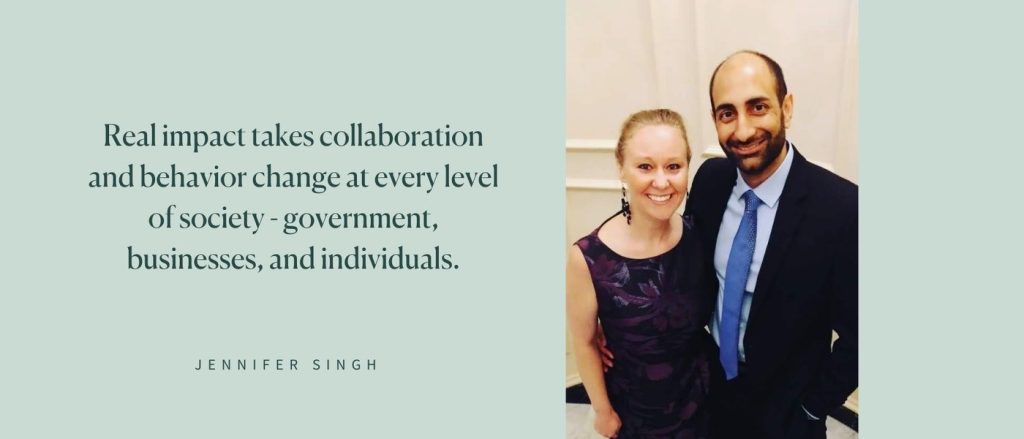 We all have a role to play when it comes to solving the climate crisis.
I always recommend starting small. A lot of businesses and folks are intimidated by climate change because they feel like they need to be 100% dedicated to overhauling their business or lifestyle. But supporting sustainability starts with one single swap or behavior change. I tell businesses to start with the low-hanging fruit while making longer term plans and constantly iterating over time. The same goes for individuals. When you are comfortable with one change, iterate and move on to something else.
What or who inspires you? Do you have any role models who you aspire you? Can you name someone who is rejecting traditional definitions of success and how you have to achieve it and also someone who is helping others and making a difference in their own communities?
I am constantly inspired by the startup founders that share their stories with the Understory community, at our events and on our podcast. Most of these entrepreneurs are true pioneers who have been working to solve big challenges like waste, carbon emissions, deforestation, and other issues for 5, 7, 10+ years. Many invented new sustainable materials, created business models that didn't exist 5 years ago, or have succeeded in changing consumer behavior.
These companies strived to change the world before it was the popular thing to do. They faced an uphill battle of lack of funding, consumer education, buy-in, and even climate deniers. I have so much admiration for those that stayed the course because they believed in their vision and were driven to create lasting impact.