By Lauren Gall and Melanie Ammerman
Growing a small business is challenging
It often requires more hours in a day than you have to give. It also takes more energy and creativity than may seem possible. While the process can be an uphill battle at times, the journey of growing your business is deeply rewarding. With each milestone you reach, you'll become more confident and more prepared to take on the next obstacle.
Do more of what you love in business
However, when you're investing so much time in the day-to-day operation of your business, you can lose sight of what inspired you in the first place–whether that's the core of your business, your vision for its future, or the lifestyle freedom that comes with being an entrepreneur. When was the last time you found yourself doing what you love?
Signs You Need Extra Business Support and Need To Delegate and Outsource
As a small business owner, you've probably already considered the fact that added support would help your organization prosper. Here are some signs that you are ready:
You're busier than you would like to be.

You don't have the time to get or stay organized, and that slows you down.

You've had to turn down opportunities because you don't have the time.

You have a vision for your business's growth, but you don't have the energy to execute.

You're spending more of your time on operational and administrative tasks than doing what you love.

Your personal life is suffering because of your work schedule.
If any of these situations describe you, you will definitely benefit from more assistance in your business.
How to Make Delegation and Outsourcing Work for You
Many small business owners find it hard to let go. Simply put, you're not going to delegate if it's not comfortable. Finding the right team for your business is the first step. You want a team on your side that cares as much about your business as you. It might take some time to assemble a team that fits with you on a personality level, but it's worth putting in the effort to find people that you can trust. It is also worth putting effort into training your team. If your team is prepared, you'll know your clients or customers will be in good hands.
Strong, clear communication with your team is a must
Focusing on strong, clear communication will also make delegating easier. Be specific with your needs and assignments. Set expectations definitively. This will ensure you're happy with the outcome of delegated tasks.
What Tasks Should You Delegate?
Think through the various tasks that you do as a business owner—everything from meetings to bookkeeping, social media management, and presentations. Compose a list of these tasks or just start thinking through what your typical week includes. If you're overwhelmed with your personal life, think through some of those tasks as well. Things like booking a doctor's appointment or booking travel can also take up a decent amount of your time.
Once you have a good idea of everything that you do throughout the week, organize those tasks into four boxes which will help you determine what to delegate.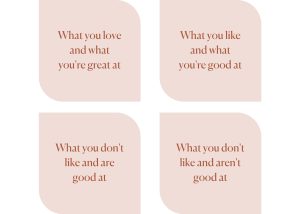 As you can see above, the four boxes relate to certain topics:
What you love and what you're great at –

This is your zone of genius. The stuff that you get out of bed in the morning for. It's probably the reason you started your business.

What you like and what you're good at –

These are the things that are okay. They might not be your biggest passion, but you feel good doing them and you do a pretty good job with them.

What you don't like and are good at –

We all have some things that we just don't like doing even though we're good at them. Maybe it's something that's tedious and detailed that you can handle, but you don't really want to spend your time on.

What you don't like and aren't good at –

It's okay to admit that there are some things you just don't like about your job and never really got good at. You can't be an expert in everything! Maybe you've just been getting by but you'd prefer to not have to do those tasks ever again.
Once you've assigned all your tasks to a box, you will have a clearer idea of what can be delegated.
Start with the "what you don't like and aren't good at" box. These are the tasks that are most critical to take off your plate. Assigning these tasks to someone else not only means that you're no longer spending your time on tasks that drain your energy, but also that these tasks will be done more effectively. Next, turn to box 3. These tasks aren't as critical to get off your plate, but removing them from your to-do list will definitely make your life easier.
Can you imagine what your day-to-day would be like if you were just doing tasks from boxes 1 and 2? Take some time to picture it. You'd be doing what you love all day long. You would rest assured knowing that the other tasks are being handled by a trusted team member.
How Delegation Translates to Growth In Your Business
Delegation unlocks business growth by freeing up your time as a business owner to pursue growth opportunities. With time to spare each week, and the stress relief that comes with it, you'll be able to develop a growth strategy and enact it. On top of that, your business will be uplifted by the expertise and ideas of the support that you bring on board. 
Focus on the things that drive your business and find time to do more of the things you love
You'll have the freedom to focus on everything you know you should be doing as a business owner but never had the time or resources for. You won't need to turn down opportunities for lack of time, and you won't be too overwhelmed to make the moves that matter. With a healthier work/life balance, you set yourself up for success. You're sure to feel the benefits in every area of your business and life.
Find Freedom and Flexibility While Running A successful Business. 
While delegation can be challenging at first, you'll find the freedom rewarding. You'll appreciate the flexibility to focus on the big picture items, and you'll feel confident that everything else in your business is being handled.
If you are getting burnt out and feel like you could use some extra help with your business, a Virtual Assistant might be right for you. We can even guide you through the delegation process to make it as comfortable for you as possible. Learn more about our services here or schedule a free consultation to learn how a Virtual Assistant can benefit your business.
Happy Delegating! 
At VaVa Virtual, we are thrilled to help small business owners find fulfillment in their work every day while also achieving business growth. Oftentimes, that comes down to delegating – one of the best strategies to allow your business to grow. When you stop doing everything yourself, you open your business up to new opportunities.