Beyoncé said it best, "Who run the world? Girls!" Womxn are the backbone of the U.S. economy. They represent more than half of all workers in this country, are more likely to be breadwinners for their families, and make a majority of consumer purchases. Womxn are also particularly vulnerable to this public health and economic crisis, and they are suffering the brunt of pandemic layoffs. Over the past two months, women lost 13.4 million jobs while men lost 11.9 million jobs due to COVID-19. Womxn of color suffered most, with Latinx womxn experiencing a 13.6% decline in their employment-to-population ratio, followed by 11% for Black womxn, 10.3% for Asian womxn, and 9.6% for white womxn respectively.
"Womxn are the backbone of the U.S. economy. Our economy relies on women of color as workers, breadwinners, consumers, and caregivers, but our policies consistently fail to address their needs."

— Dominique Derbigny
Black, Latinx, Native American, and Asian American and Pacific Islander womxn—womxn of color—will suffer disproportionate impacts of this pandemic due to intersecting gender and racial disparities in income and wealth. Womxn of color earn less than 65 cents on the dollar compared to white men, and they are underpaid across most industries due to sexist practices that pay men more than women for the same work. Womxn of color are also overrepresented in low-paid job in retail, restaurants, and hotels, which are currently being forced to cut workers. While they serve on the frontlines of this crisis as first responders and health care providers and provide essential services like child care and groceries, many lack access to proper personal protective equipment and employer-based benefits like health insurance and paid leave. So, what is offering them a safety net?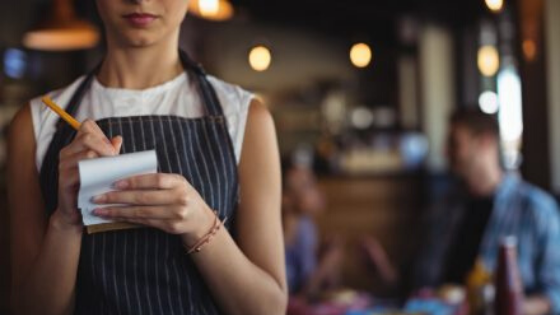 While income helps families pay bills, wealth—such as cash savings, retirement savings, or equity in a home—helps people stay afloat during an economic hardship. When many people hear the word "wealth" they picture extravagant homes, fancy cars, and private yachts, but wealth refers to net worth—what you own minus what you owe. Womxn of color own less than a penny on the dollar compared to white men (white womxn own 32 cents on the dollar comparatively), and more than half have zero or negative net worth. In fact, the median wealth for single Black womxn is $200 and for single Hispanic womxn is $100, compared to $15,640 for single white womxn and $28,900 for single white men. This is referred to as the intersecting gender and racial wealth gap.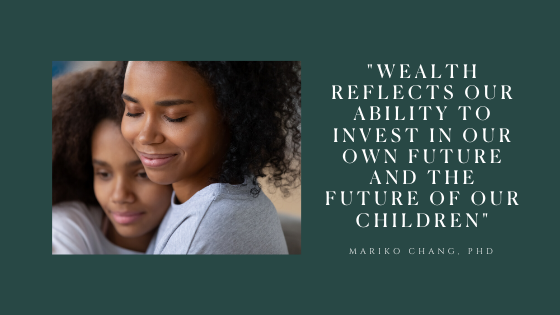 Historical, and continuing, public policies and institutional practices including denial of access to credit and loans, housing market practices like redlining and steering, employment discrimination and industry segregation, and unequal pay, have disenfranchised womxn of color making it nearly impossible, despite their best efforts, to build savings and wealth.
Womxn were not able to access credit without a male relative's signature until the Equal Credit Opportunity Act of 1974, or access business loans without a man's signature until the Womxn's Business Ownership Act of 1988. Major financial institutions have a history of exclusionary and discriminatory lending practices toward people of color and womxn, and women of color continue to be denied access to mortgages and business loans at higher rates and pay more for credit when approved. While businesses owned by womxn of color are growing at faster rates than other firms, womxn receive only 16% of conventional small business loans and womxn of color get less than 1% of venture capital funding.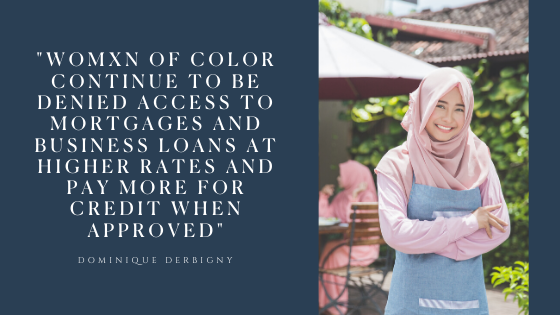 During the Great Recession, womxn of color were more likely to be steered into subprime mortgages leading to foreclosure that resulted in significant losses of wealth they have yet to recover. Additionally, many public sector jobs faced steep cuts and did not return after the Recession, leaving womxn of color subjected to the rising "gig economy" and jobs with volatile wages and without employer-backed benefits.
The current crisis will have similar compounding effects on the intersecting gender and racial wealth gap. Womxn of color who lose their jobs will be put in a difficult financial position where they may be forced to drain what limited wealth they have and take on additional debt in order to get by. Also, the Paycheck Protection Program emergency loan funds for small business owners, authorized under the CARES Act, were inequitably dispersed. Major banks prioritized loans to large companies with whom they already had lending relationships leaving womxn- and minority-owned businesses and micro businesses high and dry.
"It is likely that this unjust distribution of funds will result in higher instances of business failings for womxn of color."

— Dominique Derbigny
Our economy relies on womxn of color as workers, breadwinners, consumers, and caregivers, but our policies consistently fail to address their needs. Immediate relief is needed to help families pay bills, put food on the table, stay sheltered, seek medical treatment, and find jobs.
It is also time for us to envision and create a new future with a more equitable playing field where womxn of color and their families have economic dignity and security. Long-term, permanent policy reforms like paid family and medical leave for all workers, universal health care, a federal job guarantee or guaranteed income, and affordable child care are just a few changes that would help create a more just economy.
"When we support womxn of color, we all benefit."

— Dominique Derbigny