From a side hustle to owning a business, Anastasia Nicole has an amazing story
Growing up dreaming of living her "The Devil Wears Prada" life in New York to finally settling down in Atlanta, Lola member, Anastasia Nicole has lived and learned so much on her journey. To her, success is defined by the impact she can have both in her personal and professional life. When she isn't working towards her dream of creating a VC firm you can find her spending time with her boyfriend and dog.

Anastasia Nicole
Location: Atlanta, GA
Age: 36 years
Briefly describe who you are, what you do for work and for fun
I am originally from New Orleans and moved to Atlanta after graduating from LSU in 2007. I originally moved here as a rent-free pit stop on my way to living a "The Devil Wears Prada" life in New York. I did live in New York for a while interning in fashion show production but settled in Atlanta because my mom was here — hence the free rent. Always the side hustler I started my first experiment with entrepreneurship by selling my closet on eBay while I worked in retail and as a style writer in my 20s. Currently, I split my work life between being a Senior Associate at a boutique venture capital firm in Atlanta and helping womxn and BIPOC founders level up their marketing strategies. When I'm not working, I'm hanging out with my boyfriend and my dog and spending way too much time on TikTok. I also change my hair a lot so I'm generally not offended when people don't recognize me because my hair was blonde the last time they saw me.
How did you land upon your professional path? Who or what inspired you into taking this path?
Honestly, 16-year old me wanted to be a buyer after she realized she was too short to be the next Tyra Banks, that's why I majored in merchandising. I never really thought about a career in marketing, it was just something that happened. I went from wanting to be a buyer to wanting to work in PR to learning digital marketing as it was evolving. Along the way, I worked at and with a ton of small businesses where I was able to get real exposure to the strategy behind running and marketing a business. I became a jack of all trades with a tight focus on marketing, communications and branding.
What do you do (for work or fun) to align with your values?
My driving purpose is to create a more equitable and sustainable future for all of us, which is why I've been focusing on building my consulting business for the past 3-4 months. I like my day job but until I can start my own VC firm I know my greatest contribution will come from the work I do to help empower other womxn. It's also why I joined the Lola.
How do you define success for yourself? What ideas of success do you reject?
The pandemic has really shifted what success looks like for me. Before it was focused more on the traditional outside markers society holds as the gold standard — house, luxury car, a closet full of Equipment blouses and Chanel bags. Now, it's really all about the impact I can have. Am I leaving the world just a little better than it was before I got here? If I can say yes to that, I'm doing good.
What is your relationship with money? How does money make you feel?
For me, money is simply an expression of energy that we all use to support our lives. Where you spend your money shows what you value. Lately, I'm valuing a lot of take-out and loungewear because it makes getting through the days a little bit less stressful.
Money used to make me feel anxious because I always felt like it was slipping through my grasp. Now, I don't have any strong emotions around money, it just is something I need to live the life I desire. That's not to say I don't have moments when I stress out because a payment is running behind or a bill is unexpectedly way more than I budgeted, I do and that's normal. I understand those moments are temporary and things will generally work out.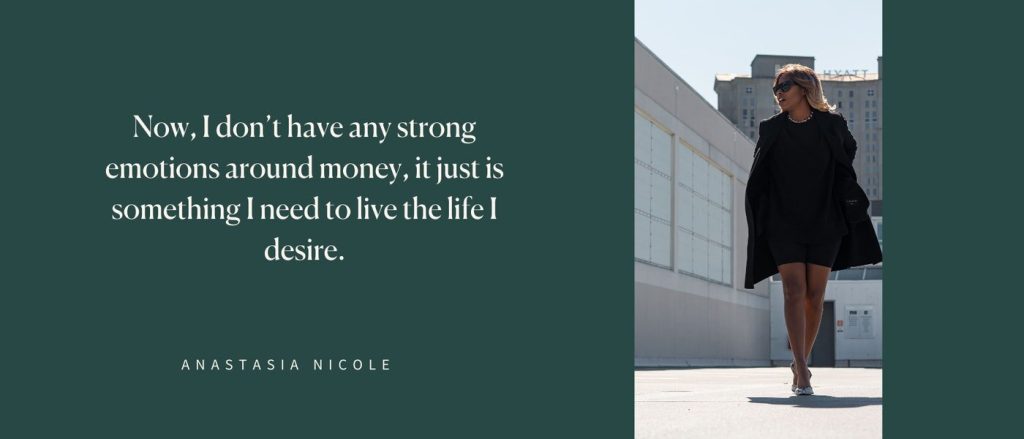 What lessons were you taught about money growing up (saving, investing, debt, earning, etc.)?
I grew up squarely middle class with a super frugal dad and spender mom. Money was a source of stress for my parents, particularly after my parents divorced. I was taught that money comes through sacrifice and hard work. My parents taught me what they knew and since both of them had jobs with traditional retirement programs they really were focused on me getting a good-paying job and saving money. It's a generational thing since 90% of the structures in place when they grew up and started working were not in place when I entered the workforce. As far as investing, I learned that from boyfriends or talking to peers at work.
How have you overcome any early beliefs or patterns around money?
Therapy. Tons of self-help books, EFT (aka tapping), and every other technique you can think of to uncover and rewrite limiting beliefs. I've also spent a lot of time educating myself on our financial systems.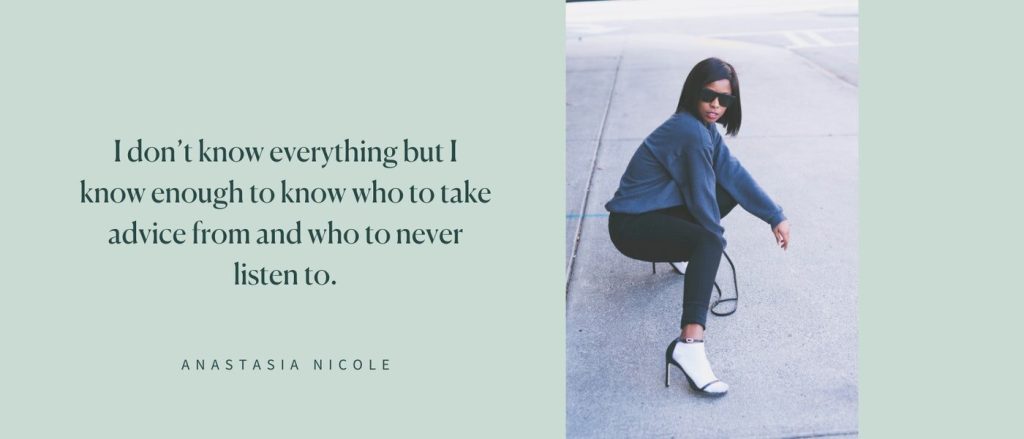 How does money play into how you make big decisions about your life and career?
I always want to consider my overall life goals, such as planning for a family and retirement. When it comes to major decisions like moving or leaving a job understanding how that will impact my goals is key but it's not as important as my overall happiness. You can always make more money but you can never get back the time you lost feeling trapped in a job that makes you miserable.
Do you approach money in your business and your personal finances in the same or different ways?
Mainly the same. I like to think I'm very practical when it comes to money, knowing when and where to save and when and where to spend. At the end of the day though any decision that impacts my business finances ultimately impacts my personal finances as well.