Dayle Bennett is building better work cultures and creating inspiring employee experiences through creativity.
The Lola member, Dayle Bennett is the owner and Chief Creative Officer of Number 4 Design Studio. Her goal is to help teams and leaders reimagine how their work environments look and feel by transforming their practices, celebrations, creativity, and innovation. Success for Dayle is building a creative business that thrives, making sure her passions and purposes are aligned and being able to bring joy and light to every situation through creativity. For fun, she thrifts, takes day trips, drink pretty cocktails, and most of all she gets crafty!

Dayle Bennett
Location: Atlanta, GA
Age: 50 years
What I do: Owner and Chief Creative Officer at Number 4 Design Studio
Briefly describe who you are, what you do for work and for fun
Hello, my name is Dayle Bennett. I am the owner and Chief Creative Officer of Number 4 Design Studio. I offer consulting services for businesses that are wanting to reshape and build better work cultures and create inspiring employee experiences.
MY GOAL IS TO HELP TEAMS AND LEADERS REIMAGINE HOW THEIR WORK ENVIRONMENTS LOOK AND FEEL BY TRANSFORMING THEIR PRACTICES, CELEBRATIONS, CREATIVITY, AND INNOVATION.
For fun, I thrift, take day trips, drink pretty cocktails, and most of all I get crafty! My favorites are all things paper crafts, art journaling, knitting, weaving, sewing, and anything that involves glitter.
Share your career story with us including anyone who inspired you along the way
I was born and raised in Baltimore, Maryland. After undergrad, I worked for IKEA as a visual merchandiser. I worked in several areas like kids, bath, home organization, and the showrooms. In 1996, I moved to Atlanta to work for a small business called Intimate Home, which sold high-end home decor bedding and accessories. As a team member, I helped customers create custom bedding and became the buyer of home accessories. This job helped me sharpen my skills in design and leadership.
After a year I moved on to work for Neiman Marcus as the lead home stylist and in-house store florist. I quickly became assistant visual manager and assistant lead in charge of store experiences and special events. After Neimans, I worked as a visual manager and director for the flagship store Dekor which had four locations in Atlanta. After the company decided to close, I freelanced for a couple of years with fashion retailers like Gucci and Armani and home decor showrooms like Baccarat and Jan Barbolio.
In 2003 I changed direction with my creative career and enrolled at the Portfolio Center (Now Miami Ad School at the Portfolio Center) in Atlanta Georgia. After graduation, I was recruited to work for Hallmark Cards Incorporated in Kansas City, Missouri where I worked for five years as a Graphic Designer for Hallmark Gold Crown stores and Retail Experience. One of my greatest accomplishments at Hallmark was being the lead designer for the Product RED campaign.
In 2011, I moved back to work for West Elm as a Visual Merchandising Specialist which included installations, workshops, and as the southeast region design trends lead.
IN 2015, I JOINED THE TEAM OF THE CIVIC CENTER FOR CIVIC INNOVATION AS A FOUNDING DIRECTOR FOR THE PEOPLE, HAPPINESS AND EXPERIENCE TEAM.
As the Experience Director, I was in charge of our brand, space design, team culture, guest experiences and special events. I spent 5 years successfully building a successful team culture for our employees and cultural experiences for our company and for the people that we served. In 2019 I decided to follow my passion and my purpose to create a creative business for myself. I wanted to have the opportunity to share my gifts on my terms.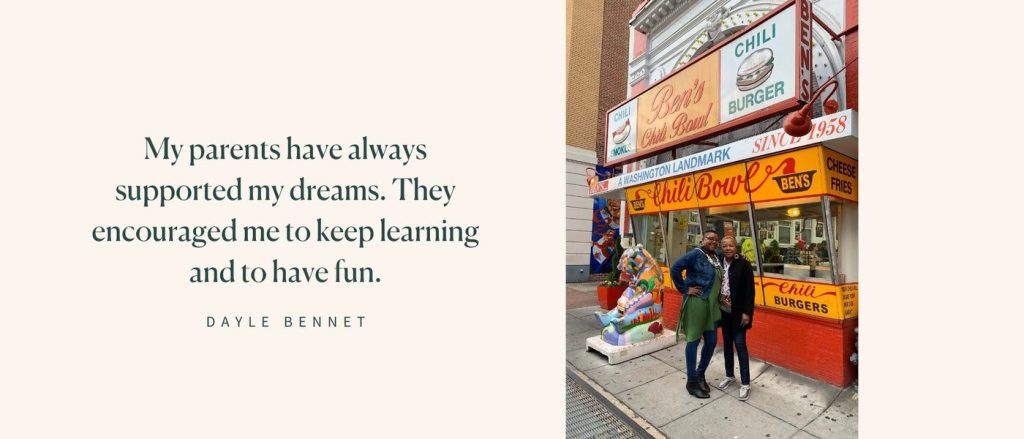 I have met so many lovely people along the way who believed in my magic. Those encounters made all the difference in the journey of my career.
What does success look like to you and how has that changed over the years?
Today, success looks like building a creative business that thrives. My passions and purposes are aligned. I am able to bring joy and light to every situation through creativity.
In my earlier career, it looked different. Success was based on how much money I made, moving up in the company, and being the top decision-maker. It led to overworking and lots of frustration. I didn't know this would lead to feeling unfulfilled and short-term success.
What struggles have you faced in your career? Did you overcome those struggles? How? What did you learn as a result?
I've had my share of discrimination and judgment throughout my career. I was always seen as a threat. I was told that I had all the talent and that I did great work but I needed to work harder to fit in. That never sat well with me, ever. I was made to feel like I was not equal to my white counterparts. That sort of treatment and unkind work environment really hurt my soul earlier in my career. I think it's why I worked so many hours and never really sat still. I felt like I wasn't enough so I had to keep doing more.
It wasn't until I had black peer mentors that I realized that I just needed to be me and that I was enough. They encouraged me and supported my career. It took some years for me to put that into action. Believing that I am enough and that I deserve great things to happen to me has been a huge turn for me.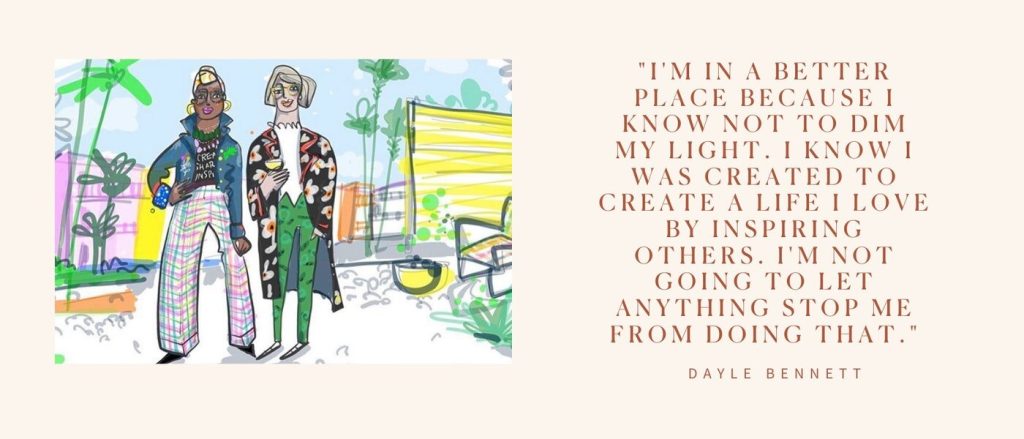 What does creativity mean to you? What do you do as your creative outlet?
Creativity is everything to me. It lives in all of us. Creativity bridges gaps and breaks down barriers that allow us to connect. As a creative outlet, I love art journaling, dancing, sightseeing, and baking.
As adults, we seem to lose our creative spark. Why is it important for adults to keep their creative juices flowing and what are some of the ways we can do that?
During the pandemic, we were forced to find creative ways to live, work and learn. Some of the ideas coming out of this have been incredible!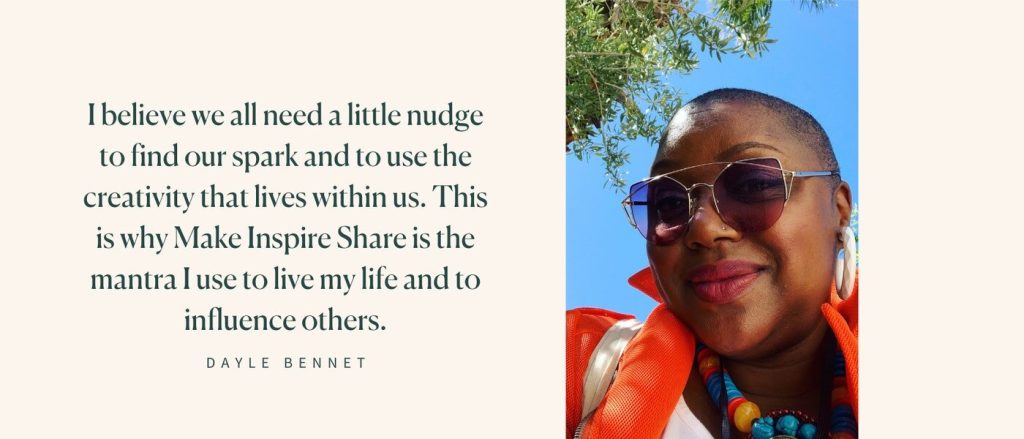 Activating our creative juices is the best self-care in my opinion. Add a little spice to your routine. It's not hard. Make the commitment to keep creative juices flowing. If it's not fun, you won't find the time.
IF YOU MEDITATE, SWITCH IT UP AND TRY ART JOURNALING AS A MEDITATIVE PRACTICE. IF YOU LIKE TO WALK, TRY A DANCE CLASS INSTEAD. YOU LIKE TO DOODLE? TAKE AN ART CLASS THAT COMBINES WATERCOLOR AND DOODLING.
You run a business built on creativity. why do you believe creativity is important in business and what can we all do to bring more creativity into our work, businesses and projects?
It's been my experience that decision-makers use creativity in three ways:
To sell products or services.
To enlighten, encourage or influence change.
The last result.
Creativity drives people to be their best, most joyful selves. It allows companies and corporations to innovate and provides an incredible experience for employees and customers alike.
When we include creativity when planning strategies for our companies, we can then visualize and understand where creativity plays a role throughout the process of how we achieve our goals.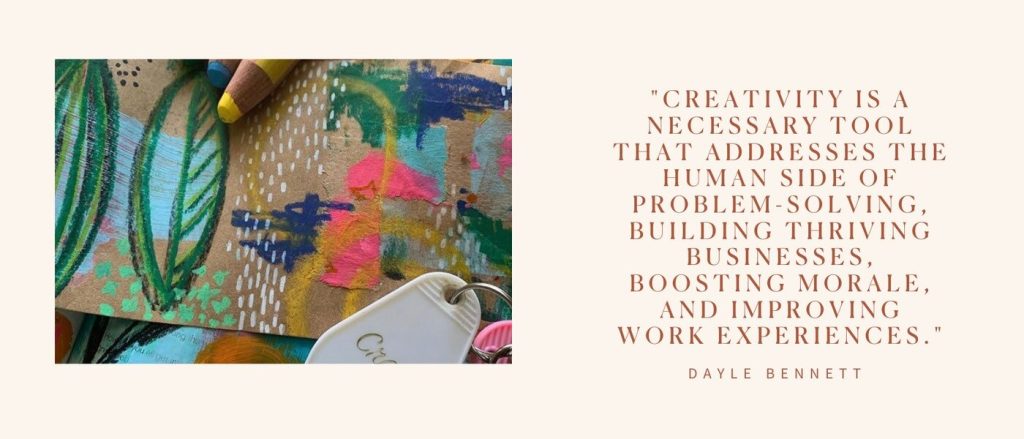 It opens up possibilities and options yet explored in our business, work and projects.
What or who inspires you to be more creative and what do you do to get yourself out of a creative rut?
I wake up feeling inspired. My brain never shuts off. It's how I roll. Have lots of different interests which help me move out of a creative rut. I may go read or just take a walk and come to the project at another time.
Is there anything else you'd like to share that may give us a better understanding of your personal story?
Creativity has given me the opportunity to lead and inspire people. I want this to be my life's work. The sunshine that makes somebody's day brighter.