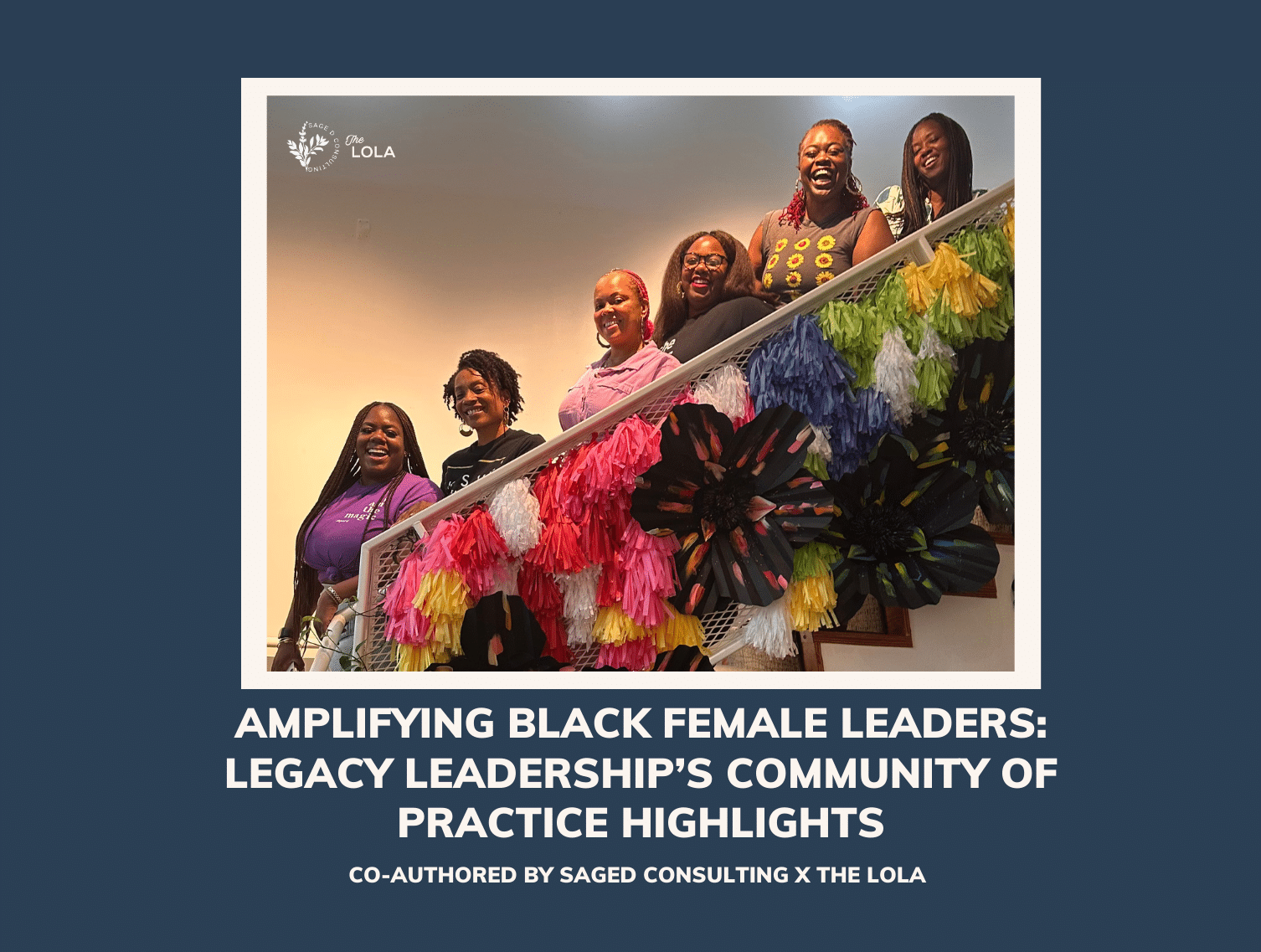 Imagine a space where excellence thrives, driven by the collective wisdom and support of a vibrant community. Infuse it with a powerful sense of sacred solidarity and empowerment, and there you have a Legacy Leadership Community of Practice.
Throughout the summer, The Lola provided space for this magic to unfold, acting as a place-based anchor for the Legacy Leadership Executives to immerse themselves in authentic leadership support and development.
In this blog, we will unpack the community of practice structure, discuss how Legacy Leadership leveraged this structure to support the Executives, and share highlights of the magical moments shared among beloved community as we amplify the work of the five phenomenal Black female leaders in this cohort.
By the way – if you haven't read their Member Spotlights yet, stop depriving yourself and do it now! Here's quick access for you to soak up their brilliance:
Let's dive in. 
What is a Community of Practice?
At its core, a Community of Practice (CoP) is a powerful space where like-minded individuals with shared interests and expertise come together to actively learn from one another. However, it is more than just a gathering of knowledge and skills – it is a vibrant community that uplifts and supports each other on their personal and professional journeys.
A CoP creates a unique opportunity to foster growth, learning, and collaboration among its members through the following key elements:
Knowledge Sharing and Transfer: Members actively contribute their expertise, insights, and experiences, creating a rich pool of collective wisdom. By sharing and transferring knowledge, we empower one another and accelerate our personal and professional growth.
Collaborative Learning: Engaging in meaningful discussions, group activities, and collaborative projects helps us tap into diverse perspectives, challenge our assumptions, and collectively deepen our understanding of relevant topics.
Reflective Practice: Reflection is a vital practice within a CoP. Taking time to pause, reflect, and integrate new learnings fosters self-awareness, personal growth, and professional evolution.
Skill Development and Mastery: Regardless of the skill at hand, the CoP structure intentionally lends to creating a supportive environment where members can continually learn, practice, and excel in their chosen areas.
Networking and Relationship Building: By actively engaging with fellow members, sharing experiences, and supporting one another, we cultivate a strong sense of belonging and collaboration that extends beyond the boundaries of our program.
How the Legacy Leadership Community of Practice Supports Black Female Leaders
Building authentic connections and nurturing networks is an essential practice for any leader, but there are hidden barriers to this for Black women.
Sagdrina Brown Jalal, founder of SageD Consulting and Legacy Leadership, is hyper-aware of the incredible impact that Black female leaders have in their communities. However, as the past leader of a working group dedicated to researching Inequity in Philanthropy in Atlanta, she's also hyper-aware of the fact that Atlanta not only is America's most unequal city – but it also does not respect the leadership of Black women.
And so, she knew that Legacy Leadership's equitable innovation model would best be upheld through a dedicated Community of Practice for the Executives it served.
Through careful curation and intentional inspiration, the Legacy Leadership CoP serves as scaffolding for these impactful Black women leaders to stand confidently in their authentic leadership and create greater impact in their communities.
Through a series of six summer gatherings, the Executives gather for sessions that involve two main components:
A 1-hour workshop led by a Black woman guest facilitator who is an expert in a specific topic related to authentic leadership cultivation
A 1-hour session dedicated to implementing and/or practicing the new skill/knowledge, expertly facilitated by Legacy Leadership's creator, Sagdrina Brown Jalal
With topics ranging in everything from daily habits to work-life balance, retirement planning and holistic well-being, these transformative sessions cover a wide range of essential leadership areas, giving the Executives the tools they need to excel in sustaining their work with ease and increasing their impact for the collective good. Each session is tailored to meet the unique needs of these dynamic leaders, providing practical advice and strategies that they can immediately apply to their own lives and careers.
Without further adieu, here are the highlights from the six summer sessions.
Highlights from the Legacy Leadership Summer Community of Practice
Session 1: "Honing Your Habits: Reimagining Your Daily Goals" | Led by by Paige Rane
Legacy Leadership's CoP kicked off with a session that focused on honing daily habits and reimagining personal goals to enhance productivity and success. Facilitated by Paige Rane of Paige Rane Consulting, the Executives delved into the significance of self-care amidst the demands of leadership roles among the continuous backdrop of systemic racism and inequity that they face each day. Despite the oppressive demands of white-dominant professional norms, they were encouraged to break free from grind culture and embrace self-care as an essential aspect of their authentic leadership journey. Through interactive discussions, Paige shared valuable strategies for prioritizing rest and wellness in the Executives' daily routines, leading to heightened focus, productivity, and ultimately – restoration.
Even though I have great work-life balance, I always need more reinforcement about how it's my right to rest and what rest does for my ability to work. Because often when I am resting, I feel guilty about resting and taking the time to do that. Paige's session helped me reframe some of the other things I do like my daily Pilates in the morning as a form of rest and rejuvenation so that it helps me do better in all the other aspects of my life that I need to do. That was really impactful for me. – Oronike Odeleye
Session 2: "Finding Your Flow: Conquering Your Work-Life Integration" | Led by by Adrienne Rice
Next up, the complexities of work-life balance for Black female leaders took center stage. Facilitated by Adrienne Rice, Founder and Executive Director of Sustainable Georgia Futures, the session explored the benefits of sabbaticals and succession planning. Reflecting on the challenges of balancing demanding roles and personal commitments, the Executives empowered themselves by setting priorities and sharing effective techniques for maintaining harmony between their work and personal lives.
[Adrienne's session] affirmed the importance of creating boundaries in both my personal and professional life. Adrian's story about her battle with burnout and how it took her to hit rock bottom before she realized she really needed to do things differently. This really resonated with me because I had a similar experience in college my freshman year… That session really helped affirm the importance of setting boundaries before burnout. – Vanya Francis
Session 3: "Structuring Your Legacy: Retiring Your Career Bag" | Led by Camelia Ruffin
Next, the Executives delved into financial and estate planning, preparing for a secure retirement and ensuring their legacies. Facilitated by Camelia Ruffin, founder of The Ruffin Firm, with support from her creative entrepreneur twin sister, Amelia Hines-Dortch, the session covered retirement savings, investment options, and estate planning essentials. Engaging in fruitful discussions, they shared personal experiences and sought guidance on structuring their legacies. The Executives left the session with a greater sense of financial security and a well-defined roadmap for their post-retirement years.
My divorce forced me to consider my personal legacy from several angles. I had no idea how incredibly liberating focusing on estate planning would be. Camelia's session provided a similar roadmap for the Legacy Leadership executives; however, this approach allowed for difficult conversations to take place in the comfort of community.
– Sagdrina Brown Jalal
Session 4: "Protecting Your Peace: Demanding Your Spiritual & Emotional Health" | Led by Siha Collins
In this healing session, the Executives learned to prioritize their spiritual and emotional well-being by recognizing and managing trauma triggers. Facilitated by Siha Collins, founder of Yellow Mat Wellness, the session incorporated a trauma-informed yoga practice to provide a safe space for emotional release and collective healing, in turn promoting relaxation and mental clarity. Sharing vulnerable stories of resilience, they inspired one another to prioritize self-care and well-being.
I was very moved by the Siha's presentation, particularly the pursuit of sustainable self-care through the ABCs + DEFGs framework. I have been mindful of the importance of scheduling time for self-care and prioritizing like never before. – Lita Hooper-Simanga
Session 5: "Branding Your Genius: Claiming Your Subject Matter Expertise" | Led by Shanita Miller
In Session 5, the Executives identified and cultivated their subject matter expertise to assert their brilliance and showcase it in building their personal brands. Shanita Miller, influencer extraordinaire and founder of Black Girl's Guide to Atlanta, emphasized strategies for increasing visibility, credibility, and professional growth. Gaining newfound clarity about their expertise and receiving personalized feedback from their peers and facilitator, the Executives shared actionable plans to strengthen their personal brands and expand their spheres of influence.
I found the session with Shanita Miller to be incredibly powerful. I have a deep admiration for Shanita. The discussion centered around marketing, but it had a strong practical focus. It also served as a reminder that I should be more proactive in showcasing myself to the world. I recognized the importance of opening up and expressing myself confidently, whether in interviews or in front of a camera. Personally, I tend to be reserved in these aspects, but as the founder and steward of the Highlander School's vision, I possess the best ability to convey our values and endeavors on a daily basis. Her challenges resonated with me, and I welcomed her strategic and practical advice. – Rukia Rogers
Session 6: "Genealogical Exploration" | Led by Adwoa Setrakian
To close the CoP, the last session featured genealogist Adwoa Setrakian of SPANdna. This session offered a friends and family experience, providing the Executives and their loved ones with an opportunity to delve deep into their specific cultural roots. SageD Consulting firmly believes that authentic leadership can be best expressed when one is deeply connected to their roots— the deeper, the better. This profound experience reminded them of the significance of cultural identity in authentic leadership, empowering them to embrace and celebrate their diverse heritage. They found a deeper sense of purpose and connection to their communities, enhancing their ability to lead with authenticity and create lasting impact.
The closest country to 0°, 0° longitude and latitude is the African country of Ghana: our chosen geographic Starting Point on the African continent. Our desire is to collaborate with and support communities of African descent. We offer the opportunity to build family trees, explore lineages, and plan travel to the African continent to connect with ancestral roots. Psychological & spiritual preparation sessions will also be available with BIPOC mental health professionals.
– Adwoa Ulzen Setrakian
What's Next?
As the summer CoP for these remarkable Black female leaders comes to a close, their journey continues with the next phase of growth and development. Led by Sagdrina Brown Jalal and in partnership with Atlanta Leadership Consulting, the Executives will undergo 360 Assessments and participate in 6 months of executive coaching. Both will provide valuable insight and opportunities to sustain their work and increase their impact.
Additionally, each leader will be paired with a non-Black Legacy Leadership Upstander, fostering allyship at work through their intentional dedication to increasing access to resources and opportunities for the Executives.
The Lola and Legacy Leadership partnership remains committed to uplifting and empowering these impactful leaders, amplifying their voices and supporting them in creating lasting change within their communities. We are honored to provide a place-baced anchor for the Community of Practice to be a nurturing space for cultivating sustainable work practices and leaving an enduring legacy that resonates both professionally and personally.
Stay tuned as we continue to celebrate this special partnership and share the inspiring stories of authentic leadership and transformation that are unfolding each day within The Lola community.